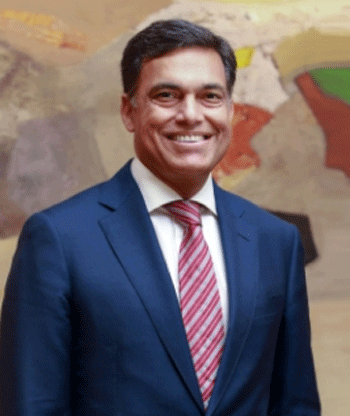 Bhubaneswar: The JSW Group has committed to invest another Rs one lakh crore in Odisha in various sectors including a mega greenfield steel plant in Paradip, its Chairman Sajjan Jindal said on Thursday.
Addressing the Make in Odisha Conclave here, Mr.Jindal said, "Before Covid, nearly four years, we had committed to invest Rs 60,000 crore in Odisha, of which Rs 30,000 crore has already been invested and projects worth another Rs 30,000 crore under way. Today we make a commitment to invest another Rs 1 lakh crore in the state in various sectors."
The JSW will invest the money in building a mega green-field steel plant project in Paradip, a silicon plant which will be used for making solar panels, renewable energy and many other areas, he said.
He praised Odisha Government for the work done for development of sports, transformation of schools and ancient temples and ease of doing business.
Mr.Jindal suggested the State Government to improve the infrastructure as the Government can only invest in it. "The more we will create infrastructure, the more investors will come," he said.
The JSW owner also said Odisha is going to be a trillion-dollar economy State in near future.
The Adani Group has already invested Rs 7,600 crore in Odisha and the planned capital investment will exceed Rs. 60,000 crores over the next ten years, said Karan Adani, Chief Executive Officer of Adani Ports and SEZ Ltd. (APSEZ) at the Conclave.
"Our investments in the state of Odisha continue to accelerate – and, over the last five years, the Adani Group has already put in Rs 7,600 crore as we have gone about developing LNG terminals, the Dhamra port and our mining activities."
The company's planned capital investment will exceed Rs 60,000 crore over the next ten years, he said.
The number of direct jobs created has already touched 4,500 while the planned investment will create tens of thousands of direct and indirect jobs and help reshape the economics of the state, he said.
Mr.Karan said that Adani Group's primary interests in Odisha are in ports and logistics, industrial clusters and special economic zones, power generation, transmission, and distribution, integrated natural resource management, renewable energy, data centres, defence, cement, and agri-businesses.
"We are leaders in all our core businesses – and Odisha is one of the most important states for the Adani Group," said the young industrialist.
He also informed that Dhamra port is the first port in India to receive environmental clearance for more than 300 million tons. It will have 35 berths with a massive 315 million tons in port capacity.
He announced that the LNG terminal of 5 million tons capacity in Dhamra will start commissioning in December this year. This entailed an investment of Rs 5,200 crore. "We have already planned to double this capacity within the next five years," he added.
Besides, Mr.Karan stated, the High-Level Clearance Authority (HLCA) of Odisha Government has approved Adan Group's proposal to set up a 4-million-tons-per-annum alumina refinery and a 30-million-tons-per-annum iron ore project in the state.
At the event, the Energy Department has executed three Memorandum of Understanding (MoU) with leading Central PSUs for an investment of Rs. 51,000 crores in the State.
the First was executed between GRIDCO and NTPC Green Energy for development of large-scale on-ground Solar, floating solar and pumped storage projects in the State. In the first phase, 1000 MW Pumped Storage Hydro and 2000 MW Solar projects will be developed with an investment of Rs. 17,000 crores.
The second was executed between GRIDCO and SJVN Ltd. for development of 2000 MW Pumped Storage Hydro Project and 2000MW ground based and floating Solar projects with cumulative investment of Rs. 30,000 crore.
The Third was also signed with the NLC for development of large-scale on-ground solar, floating solar, pumped storage hydro and green hydrogen projects in the State.
Initially, 600 MW Solar capacity and 5 Million Tonne Green Hydrogen production has been planned with an investment of Rs. 4,000 crore. These MoUs are expected to generate 1200 direct and 2600 indirect employment in the State.
The Make in Odisha Conclave was started here on November 30 and will continue till December 4.