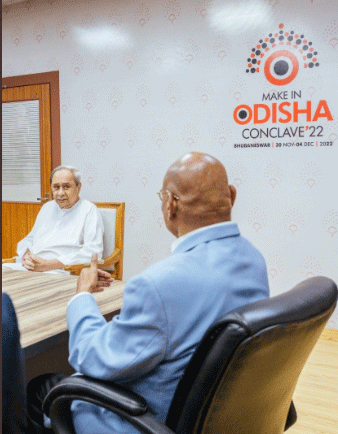 Bhubaneswar: Offering the better than the best, Chief Minister Naveen Patnaik on Thursday invited investors from all sectors to join the Juggernaut.
Welcoming to industry leaders, investors and all delegates present here for the 3rd edition of the Make in Odisha Conclave, the Chief Minister said, "Welcome to the Land of new opportunities! Welcome to Odisha! Odisha is fast emerging as a major investment destination in the country."
Odisha is a progressive state with clear focus on transformation in all sectors. Stable governance is the cornerstone of peace, prosperity and progress, he said. Secretary to CM V K Pandian moderated the meeting.
"We have an unprecedented mandate from the electorate due to our continued performance over the last two decades. Our citizen centric governance model has set global benchmarks. Initiatives like Mo Sarkar and 5T charter give dignity and respect to our people," said Mr.Patnaik.
He said the State Government's inclusive development agenda emphasizes on education, health, skill development, agriculture, women's empowerment, tribal development and so on.
The State had been able to reduce poverty by 50%, while doubling the farmers income over the last two decades.
The fiscal prudence and economic management has been appreciated across the country. Odisha is one of the few states with adequate revenues to undertake large scale infrastructure projects, he pointed out.
"Our investor-friendly initiatives and transformatory governance has put us on a journey of progress and prosperity. I invite each one of you to come join us on this journey. I assure you that our government will run the extra mile to make you comfortable in our state," he told the industrialists.
State's new Industrial Policy provides the support and incentives which are beyond the best in the country. The State has launched new policies in the sectors of tourism, renewable energy, apparel and textile, food processing, exports and so on, he added.
Odisha is a major force in the field of mining and mineral-based industries. The State has attracted major investments in Steel and Aluminum projects and will emerge as the global hub in these sectors by the turn of this decade.
"However, we are ambitious to develop Odisha in other sectors too. We are making a huge capital investment in improving our transport infrastructure – expressways, railways, airports, sea ports," the Chief Minister said.
The State is a pioneer in electricity reforms and has successfully created the framework and investment towards providing quality affordable energy.
"Odisha is destined to become a trillion-dollar economy in the near future. We will emerge as the gateway to East and South East Asia. I invite you to come and invest in a New Odisha," he appealed to investors across the globe.