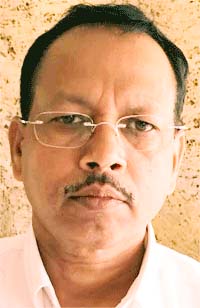 Bhubaneswar: 1989 Batch IAS Pradeep Kumar Jena has been appointed as new Development Commissioner of Odisha.
Department of General Administration and Public Grievances have brought out a notification in this regard on 25 December.
Mr.Jena is now serving as Additional Chief Secretary (ACS) Rural Development and Special Relief Commissioner (SRC)
Mr.Jena, an outstanding IAS Officer has all along has been on the forefront of development initiative of the State Government.
Born on 1 January 1964, Mr.Jena started his career as Sub Collector Dharmgarh in Kalahandi District in 1991 and served one of the most backward districts for long as PD DRDA and Collector in Kalahandi.
Later he served as Collector Kendrapara and later to take charge of Collector Cuttack.
And he efficiently handled Super Cyclone in 1999 as Collector Cuttack and earned laurels from both State and National Level for his dynamism and pro-people approach.
As Director Agriculture and Watershed Development, he has been able to create an impact on the farmers and has been able to provide proper direction in this regard.
Known for his No-Nonsense approach, Mr.Jena was the youngest Mandarin to head twin revenue collecting organizations like Commercial Tax Commissionerate and State Transport Authority and has been able to create record of sorts in revenue collection, when the State was facing financial crisis.
Later he joined as Team Leader of UNDP and has been able to aid and advise the State Government in formulating one of the progressive Resettlement and Rehabilitation Policy for the State of Odisha.
Mr.Jena later joined as Secretary Energy for long period and handled the crucial infrastructure sector time and again for over 6 long years.
His brief stint in Panhayati Raj and one of the longest serving Principal Secretary of the Department of Water Resources has been help full for the State in scaling up Irrigation Network in a much big way.
An ardent deovtee of Lord Jagannath, Mr.Jena served as Chief Administrator of Shree Jagannath Temple Administration (SJTA) and has been able to brought systemic development in the management of 12th Century Shrine.
Serving in the Rural Development sector, Mr.Jena has been able to bring in qualitative improvement in Rural Road, PMGSY implementation and transparency in the system.
As Special Relief Commissioner (SRC), Mr.Jena was seen spending sleepless nights during the natural disasters that hit badly Odisha, and has been able to guide the District Collectors in the time of crisis.
During entire COVID-19 Pandemic, Mr. Jena has worked with Team Spirit and has been instrumental in providing much needed support to the State Administration during the period of crisis.