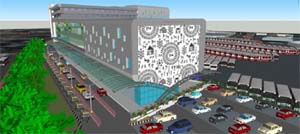 Bhubaneswar: Secretary to CM, VK Pandian has reviewed the ongoing construction of Inter State Bus Terminus (ISBT) at Baramunda and set the timeline to operationalize the state-of-the-art passenger facility in the State Capital by March 2023.
ISBT Bermunda is the busiest bus terminal in the state. Every day, hundreds of buses ply from here to different parts of the state.
Secretary to the Chief Minister Mr.Pandian went to Bermunda and reviewed the progress of ISBT and Bus Depot work.
Mr.Pandian directed V C BDA Sanjay Kumar Singh to complete ISBT work by next March 2023.
While the depot work has been completed, the progress of the ISBT work is satisfactory, said sources in CM's office.
VC BDA Mr.Singh who accompanied CM Secretary during this inspection confirmed that work is going on with right earnest and it will be further expedited to complete the facility of international standard soon.
"Passengers can avail special facilities being made available under one roof such as dormitory, food-court, shopping arcade, parking ATM etc while waiting for their buses," said Singh, adding that structural work of four out of six blocks have been completed and the same for the remaining two blocks will be completed in coming two months. As finishing work has also started, we hope the whole complex will be ready by the end of the year, he said.
Built on 11.48 acres of land at a cost of Rs.180 crore, this facility is going to be a very important landmark of the capital city of Bhubaneswar.