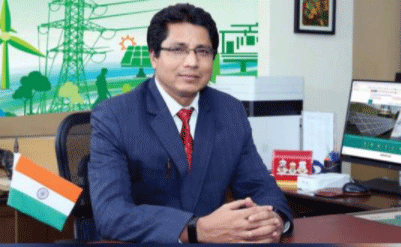 New Delhi: The Union Cabinet recently approved infusion of Rs 1,500 crores in Indian Renewable Energy Development Agency Limited (IREDA), the PSU under Ministry of New & Renewable Energy. This will push the IREDA to fly high in the renewable energy sector.
Thanking the Prime Minister and other Members in the Union Cabinet Committee, especially Union Minister Power, New and Renewable Energy R K Singh, for taking this decision Chairman & Managing Director (CMD), IREDA Pradip Kumar Das said now IREDA can lend Rs 12,000 crores to the renewable energy sector. This will also create additional employment opportunities for around 10,000 persons per year, he said.
During the past two years, the Union Government has already allocated about Rs 700 to Rs 800 crore to the Agency in the form of dividend exemption, informed Mr.Das.
"The IREDA network was stopped at Rs 2400 or Rs 2500 crore during the past few years. Due to the exemption, our business grew to Rs 3400 crore till September of current financial year," the CMD said.
As the network expands, the IREDA can disburse 8 times more for each rupee. So, we can now disburse eight times of Rs 1500 crore as we are a non-banking finance company, Mr.Das further informed.
Elaborating about how the Agency is extending loans to the developers, he said, "A developer wants three things from a lender. Those are–speed in processing, transparency and low rate of interest. The IREDA has done a lot in these three points."
Citing an example, Mr.Das said, "During the Covid-19 peak we have sanctioned loans to three first time borrowers. This borrowing was done without any physical contact, on digital mode. They have not even visited our office."
On September 30 last year, he said, the IREDA has sanctioned Rs 1374 crore loan, of which Rs 1100 crore was released on a single day. This was a historic day in IREDA.
"Within 45 days, starting from application to disbursement, we have sanctioned a loan for the project spreading over six States. Our team worked with them for 12 to 14 hours a day," the CMD added.
The IREDA has already put a strong system in place that can change the future of renewable energy in India.
IREDA is in the process of setting up a debt fund in the form of an Alternate Investment Fund (AIF) to tap large Institutional Investors such as Pension funds, Insurance Funds, Environmental, Social and Governance Funds, etc.
AIF will also help IREDA in financing new projects of those borrowers who are nearing the exposure limit. The company is also planning to do Asset-Based Securitization (ABS) by issuance of Pass-Through Certificates, sources said.