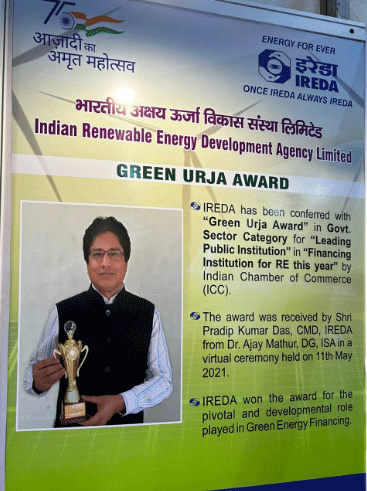 Bhubaneswar: Indian Renewable Energy Development Agency Limited (IREDA) is participating in the exhibition at Make in Odisha (MIO) Conclave, 2022 underway here at Janata Maidan.
Pradip Kumar Das, CMD IREDA is spearheading the Team IREDA, which has showcasing the investment opportunities in Renewable Energy Sector in Odisha.
Chief Secretary Suresh Chandra Mahapatra evinced keen interest in IREDA stall and moved around the Exhibition. He has appreciated efforts of CMD Shri Das in organizing the Exhibition Stall in MiO'22.
The IREDA stall is attracting investors from across the country, who are taking part in the MIO as the world is looking towards green energy and the IREDA is the biggest financing agency in India for such projects.
IREDA is showcasing its various financial products, schemes, and contributions towards the development of the renewable energy (RE) sector in the country under the theme of 'Aatmanirbhar Bharat'.
Information and prospects on IREDA's funding for various projects including solar energy, wind energy, hydro project, biomass and waste to energy are available there.
Indian Renewable Energy Development Agency, a PSU under the Ministry of New & Renewable Energy (MNRE) and is headed by CMD Pradip Kumar Das.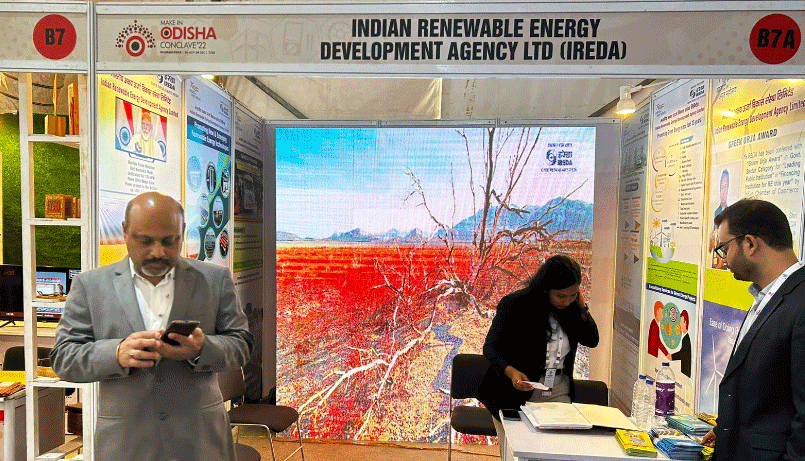 The Agency has sanctioned about Rs 1,24,115 crore for various RE projects, of which Rs 81,575 crore has already been disbursed to the more than 3020 project proponents as on August 31,2022.
The Agency has sanctioned around 750 wind power projects for a cumulative amount of around Rs 29,000 crore. Further, IREDA has affected cumulative disbursements of about Rs 18,000 crore in wind energy sector till March 31, 2022.
Similarly, the Agency's solar sector portfolio is about 25 per cent of its total portfolio as on March 31 last. The IREDA has sanctioned over 300 solar power projects for a total amount of around Rs 31,000 crore, of which Rs 18,000 crore has been disbursed till March end.
The IREDA has also sanctioned 210 cogeneration projects in different states with aggregate capacity of 1170.78 MW with a total loan commitment of Rs 5050.09 crore. Out of the above, 661.28 MW capacity of cogeneration projects have been commissioned, as on March 31, 2022.
Further, the Central Agency has sanctioned 28 waste to energy projects with a total capacity of 134.89 MW with a total loan commitment of Rs 957.74 crore. Out of which, 29.63 MW capacity of waste to energy projects have started functioning.
According to sources, the IREDA has sanctioned a total loan of Rs 11421.35 crore towards funding of Hydro Sector projects across India, which has resulted in development of aggregate capacity of 3453.99 MW, since inception.
As on March 31, 2022, IREDA's hydro sector portfolio stands at Rs 4058.60 crore, which is about 12 per cent of the total IREDA portfolio.