New Delhi: Indian Renewable Energy Development Agency (IREDA) celebrated International Women's Day today, with a commitment to gender diversity at workplace. The event was organized to recognize the contributions of women in the Renewable Energy sector and to inspire them to break barriers and achieve their potential.
The event was graced by Hon'ble Smt. Justice Ranjana Prakash Desai, Chairperson of Press Council of India, and former Judge of Supreme Court of India, as the Chief Guest. Shri Pradip Kumar Das, Chairman & Managing Director, IREDA, also addressed and expressed his gratitude towards the female employees for their contribution towards the organization's holistic growth.
Extending a warm welcome to Justice Desai, Shri Das noted that this was the first occasion in the history of IREDA for all employees to celebrate International Women's Day. He emphasised the 35-year journey of IREDA, highlighting how in the last three years, the organisation has seen tremendous growth in most of the parameters along with best quality Corporate Governance Standards.

CMD, IREDA also emphasised the company's commitment to promoting a more inclusive workplace and encouraged female employees to take up leadership positions in the organization. He underlined that around 70% of the IREDA's Divisions/ Departments are led by female officers.
Speaking at the event, Hon'ble Smt.Justice Ranjana Prakash Desai appreciated IREDA for promoting gender diversity and inclusivity in the workplace. She insisted that women who are at home taking care of their families are also successful and achievers. One successful woman can inspire ten other women to succeed. Men should encourage their wives, daughters, and other female family members to follow their aspirations, Justice Desai advised.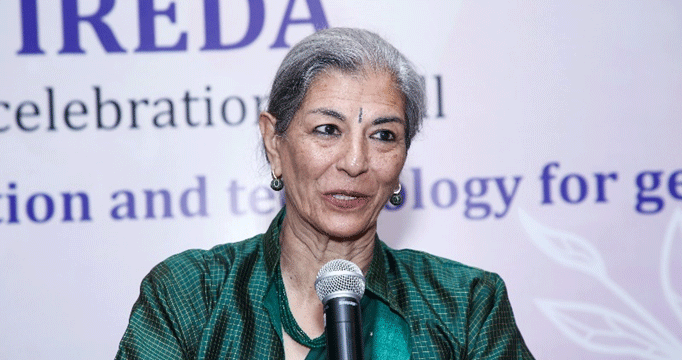 Dr. Gita Prakash, who has worked with the Indian Army and the United Nations and began modeling at the age of 57, also interacted with IREDA employees. She pushed people to live disciplined and balanced lives. It is never too late for a new dream, she asserted. "She does not pay attention to people who say she is too old to be a model", Dr. Prakash added when discussing how to deal with negativity. She also appreciated IREDA's variousinitiatives towards mental and physical health of its human resources.
International Women's Day is celebrated globally on 8th of March every year; however, due to Holi, IREDA observed Women's Day today.
IREDA also organized a number of recreational activities for its female employees in addition to lectures by eminent personalities.