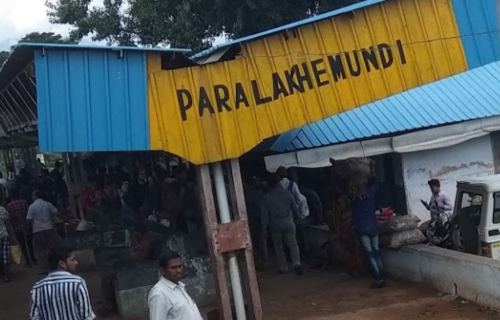 Bhubaneswar: The Odisha chapter of Indian National Trust for Art and Cultural Heritage (INTACH) has demanded preservation and heritage status for the Paralakhemundi railway station in Gajapati district.
An expert team from INTACH, Bhubaneswar comprising of historians Anil Dhir and Deepak Kumar Nayak, conservation architect Satyam Jyoti and Bishnu Mohan Adhikari had recently visited Paralakhemundi railway station and submitted a report on the existing and newly coming up railway station.
Considering the report, state convener of INTACH A.B. Tripathy has written a letter to Railway Minister Ashwini Vaishnaw in this regard.
In the letter, Tripathy urged Vaishnaw not to demolish the old railway station building. The present new building coming up is on a raised platform and overshadows the existing heritage structure. The new planned station is being constructed on the design of the Paralakhemundi palace.
While the new building is being built on the lines of the older one, it should be noted that the original building has a lot of historical and heritage value, he said.
"It is still in a very good state and does not need much restoration work. This old station should be given a heritage tag and preserved as it is. It is not only of importance to Odisha, being the first railway station of the state, but is an important Railway landmark of the nation," Tripathy said.
He also demanded to include Paralakhemundi railway station in the Ramayana circuit. The Mahendragiri Hills, which are a biodiversity, heritage and pilgrimage site, have the nearest railhead at Paralakhemundi. The hills have some of the oldest temples of India which find reference in both the Ramayana and Mahabharata.
A train named as Mahendragiri Express should run from Paralakhemundi and Ayodhya which will boost tourism and pilgrimage to the district, the INTACH further demanded.
The INTACH convenor also requested the Railway Minister to bring back at least two of the original heritage locomotives of the PLR (Paralakimedi Light Railway) and properly plinthed at the railway station.
The 1899 built wooden bodied royal carriage used by the royalties of Paralakhemundi which is kept at the Narrow Gauge Railway Museum at Nagpur too should be brought back for display at the station, he said.
Besides, the INTACH urged the Indian railways to consider running a new train from Baripada to Paralakhemundi connecting north and south Odisha. This will be a fitting tribute to two pioneers of the railways in Odisha, Maharaja Goura Chandra Gajapati and Maharaja Sriram Chandra Bhanj Deo, he added.