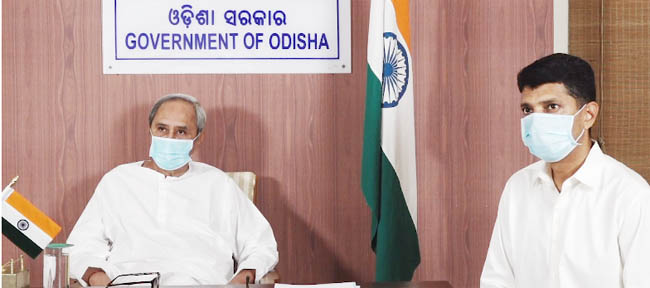 Chief Minister Naveen Patnaik has cautioned that there is no room for complacency at this time though the trend of infection is decreasing.Accordingly Mr.Patnaik advised everyone to be more vigilant in view of the upcoming festive season and strictly abide by all the Covid regulations.
Reviewing the Status COVID-19 in State, Mr.Patnaik asked the officials to maintain the momentum of economic activities to minimize the difficulties of the poor people during the pandemic.
Secretary to CM V K Pandian coordinated the deliberations.
He also stressed continuous industrial activities and attract investment to the State.
Chief Minister also advised to pay more attention to the treatment of patients with comorbidity.
Mr.Patnaik was informed that the number of cured persons has reached 2.5 lakh and over 40 lakh tests have been conducted in the State so far.
Development Commissioner Suresh Chandra Mohapatra briefed the Chief Minister on the state of the pandemic.
"Despite the declining number of Corona infections in the state, the administration is on high alert," Mr.Mahapatra said.
More precautionary measures are being taken for Dussehra and Diwali festivals, he informed.
In a detailed presentation on the control of coronary infections in the state, Additional Chief Secretary Health Pradipta Kumar Mohapatra said that the infection rate in the state has been reduced to 0.91 per cent, while the cure rate has reached 43 per cent, which is higher than the national average.
The RT-PCR test report is being issued within 24 hours as directed by the Chief Minister, Mr.Mohapatra said.
At present there are more than 1,000 active patients in five districts of the state – Khordha, Cuttack, Sundergarh, Mayurbhanj and Anugul, while the number of active patients in other districts has declined, Mr.Mohapatra said.
The decline in infection rates in the state has created excitement among doctors and health workers and they are working hard to keep up the patient care, he said.
As the positivity rate has dropped, people are not interested in testing. Patients with symptoms were therefore asked to come forward for testing.
For the first time since 18 August, the number of active patients in the state is below 20,000. It is now in the 1950s. According to the meeting, 15,515 patients are currently under house arrest.
Director General of Police Abhay said that the strategy has been formulated in consultation with all SPs in the State keeping in view the festive season.
He emphasized the need to focus on security, and said that maintaining some independence was important.
Local Puja committees in various cities have also been alerted, he added.
According to officials, the sero survey in Bhubaneswar has been completed and will be launched in Cuttack and Puri soon