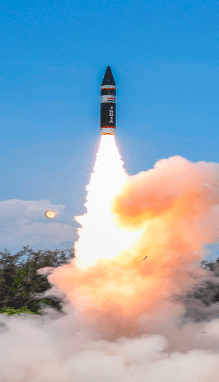 Balasore: India Monday successfully test fired its new generation nuclear capable Agni Prime missile from a test base off the Odisha coast, DRDO sources said.
The surface to surface ballistic missile has a range of 1000 kilometer to 2000 km and belongs to Agni series of missiles, it said.
The sleek missile was test fired from a mobile launcher from the Abdul Kalam Island in Odisha coast at about 10.55 AM, said a DRDO source.
The new generation ballistic missile trajectory was tracked and monitored by sophisticated tracking radars and telemetry centers along the coast line.
The nuclear-capable missile has been designed and developed by the Defence Research and Development Organisation (DRDO).
With a range of 1000 km to 2000 km, Agni-Prime can carry a payload of 1000 kg. The missile is lighter and much sleeker than Agni.
Various telemetry and radar stations positioned along the eastern coast tracked and monitored the missile.

The missile followed text book trajectory, meeting all mission objectives with high level of accuracy, an official release said. 
Agni P is a new generation advanced variant of Agni class of missiles. It is a canisterised missile with range capability between 1,000 and 2,000 kms