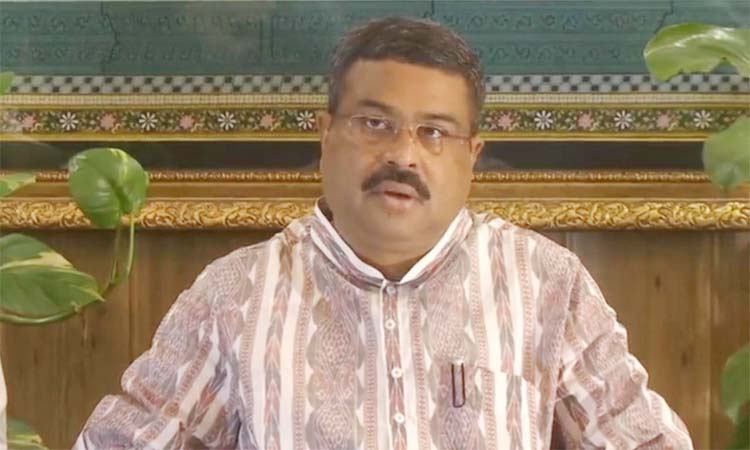 New Delhi: Union Minister Steel, Dharmendra Pradhan has said that the country aims to increase Per Capita Steel Consumption to 160 Kilogram (KG) by 2030.
Minister Mr.Pradhan has said that the Per Capita Consumption of Finished Steel for the year 2019-20 was 74.7 KG.
This is against the world average of 229 KG during the same period, as per the data released by the World Steel Association.

Minister in a reply in Rajya Sabha said that the steel is a deregulated sector and the decisions regarding setting up production capacity of any steel grades are taken by an individual company, based on techno-economic considerations.
However the Union Government has taken several steps to encourage the domestic steel makers and to enhance the Per Capita Consumption of Steel.
He said that the National Steel Policy, 2017 notified on 8 May, 2017 envisages domestically meeting the entire demand of steel and high-grade automotive steel, electrical steel, special steel and alloys for strategic applications.
It also aims at increasing the per capita consumption of steel to 160 KG by 2030-31.
Minister said that Domestically Manufactured Iron & Steel Products (DMI&SP) Policy encourages production and consumption of domestically produced steel.
Issuance of Steel and Steel Products Quality Control Order for compulsory BIS certification for 145 Iron and Steel Products in order to ensure that the quality of steel being manufactured by domestic producers or imported in the country is as per the Indian Standards will boost steel consumption.
He said the inclusion of 'specialty steel' under the Production Linked Incentive (PLI) Scheme recently announced by the Government to help attract capital investments and production of specialty steel in the country.
Minister also said the Steel Scrap Recycling Policy, 2019 envisages to set up environmentally sound management system to encourage processing and recycling of ferrous scraps through organized and scientific metal scrapping centers across India to minimize dependency on import of scrap and make India self-sufficient in scrap availability with an aim to promote 6Rs principles of Reduce, Reuse, Recycle, Recover, Redesign and Re-manufacture.
He said that Steel Import Monitoring System (SIMS), an online platform for advance registration of intended imports of steel, notified on 05.09.2019, requiring the intended steel importers to submit advance information for intended imports and help the industry to plan domestic manufacturing.
Ministry of Steel has held several Webinars to enhance the consumption and overall demand for steel in the country.
Most importantly the Union Government has allowed domestic steel producers to provide limited quantum of four product categories of steel (Hot Rolled Coil, Cold Rolled Coil, Wire Rods and Alloy Steel Bars) to MSME members of EEPC at an export parity price.