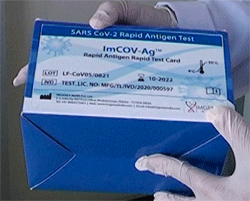 Bhubaneswar: Very soon made in Odisha rapid antigen testing kits will hit the market for testing of SARS-CoV-2 infection in people.
The Indian Council of Medical Research (ICMR) has validated the first Covid-19 rapid antigen test kit, ImCOV-Ag developed in Odisha.
The kit has been developed by IMGENEX India Pvt. Ltd, Bhubaneswar with intellectual input from Regional Medical Research Centre (RMRC). The kit can detect various variants if Covid-19 by using nasopharyngeal swab samples.
Speaking to reporters here on Friday, CEO of IMGENEX, Dr. Sujay Singh said his firm has started working on this project since June 2021 and yesterday the ICMR has approved it following certain procedures.
The kit was developed at a cost of Rs 1 crore and it is likely to be available in the market in two months, he said. However, it is only for laboratory use, not for home tests, Singh said.
As per the ICMR, till date, as many as 150 Antigen based Rapid Test Kits have been validated (including 31 revalidations), and have been found to be satisfactory.
"The IMGENEX India Pvt. Ltd, Bhubaneswar first started developing the kit and RMRC Bhubaneswar provided intellectual support for in-house testing and validation. Subsequently, we submitted the proposal for approval," said Dr. Sanghamitra Pati, Director, RMRC, Bhubaneswar.
She said that the ICMR follows the criteria of sensitivity and specificity while approving any Covid test kit and this Odisha made kit has passed on all