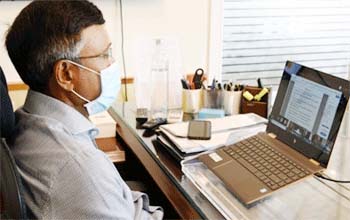 Bhubaneswar: As another step in realization of 'ease of doing business' in the State, 28 investment projects of around Rs.588 crore with direct employment potential of 3245 have been put on fast track with swift land allotment process of Industrial Development Corporation, Odisha (IDCO).
This was known from the High Level Land Allotment Committee meeting held under the Chairmanship of Chief Secretary Asit Tripathy on digital mode from Lokseba Bhawan wherein Chairman and Managing Director (CMD) Industrial Infrastructure Development Corporation (IDCO) Sanjay Kumar Singh presented details of the scrutinized projects for discussion.
Outlining the projects Mr. Singh said, "The projects requiring land allotment are mostly MSME units from varied sectors like sea food processing, IT and ITES, automobiles, agro-food processing tourism, light engineering, warehousing, seed processing and manufacturing. These projects have been recommended by State Level Single Window Clearance Authority (SLSWCA), District level single window Clarence Authority (DLSWCA) and different Nodal Agencies".
Mr. Singh also outlined utility of the proposals and latest position about availability of land in various industrial estates.
While giving nod for allotment of land to the units, Chief Secretary Mr. Tripathy directed the entrepreneurs to complete their construction works on respective sites within the scheduled timeline of IDCO.
Mr. Tripathy also directed concerned departments to extend facilitating support for early grounding and commissioning of the projects.
Twelve investment projects recommended by SLSWCA and Nodal Agencies and sixteen projects recommended by DLSWCA were considered for land allotment.
The major units that received in principle sanction for allotment of land included B-One Business house private ltd for its sea food processing unit at Sea Food Park Dears, UBN Software Solutions for its software unit in Infovalley-II, World Skill Center in Mancheswar industrial estate, Falcon marine exports for its shrimp processing unit at Seafood Park Deras.
Similarly Inteqc India for its shrimp feed manufacturing unit near Seafood Park Dears, State Data Center in Infovalley-II, Odisha auto mobile association for its automobile cluster in Balianta Tahasil of Khordha district, and, Common facility center for Pahala Rasagola at Anantapur of Khordha district. Besides, sixteen MSME units recommended by different DLSWCA were also given in principle approval for land allotment in the Industrial estates of Bhubaneswar, Chhatabar, Food Processing Park Khordha, Janala and Chandka received approval.
Additional Chief Secretary Forest and Environment Mona Sharma, Principal Secretary Industry Hemant Sharma, Principal Secretary Home, General Administration and Public Grievance Sanjiv Chopra, Principal Secretary MSME Satyabrata Sahu, Secretary Electronics and IT Manoj Mishra, Municipal Commissioner BMC Prem Chandra Choudhury, Collector Khordha Sanat Kumar Mohanty along with senior officers of concerned departments participated in the discussions.