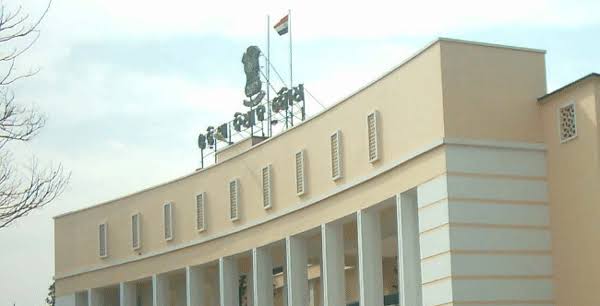 Bhubaneswar: The Monsoon Session of State Legislative Assembly today adjourned sine die, a day ahead of the schedule. The Session was begun on September 22 and set for seven working days.
Soon after passage of the Appropriation Bill on First Supplementary Budget, Speaker Pramila Mallik adjourned the House sine-die amid protest by opposition BJP members over their demand to expunge words "anti-people" uttered by Chief Minister Naveen Patnaik in his statement made in the House recently.
Finance Minister Bikram Keshari Arukha presented the first supplementary budget of Rs 28,200 crore for 2023-24 in the House on the first day of the session and its Appropriation Bill was passed this evening amid walk-out by BJP members.
The Supplementary provision of Rs.28,200 crore comprises Rs.2,864 crore towards Administrative Expenditure, Rs.4,664 crore towards Disaster Management Funds, Rs.572 crore towards Transfer to Local Bodies and Rs.20,100 crore towards Programme Expenditure, Arukha said in the House today.
Out of Rs 20,100 crore towards programme expenditure, Rs15,624 crore allotted for implementation of State Sector Schemes (SSS), while Rs 4,441 crore provisioned for Centrally Sponsored Scheme (CSS) and Rs 35 crore for Central Sector Scheme (CSS), he said.
Shri Arukha said provision of Rs 3417 crore made for the Panchayati Raj and Drinking Water department in the supplementary budget. Similarly, a total amount of Rs 3336 crore was allotted to education and skill development sector, and Rs 1613 crore provided for agriculture and allied activities.
Similarly, Rs 1136 crores allotted for ST & SC development and minority & backward class welfare, Rs 771 crore for social security, Rs 1253 crore for Mission Shakti, and Rs. 862 crores for public health care in the supplementary budget, he pointed out.
During the Assembly session, which was set for seven days, 13 bills including the Odisha Apartment Ownership and Management Bill, and the Right to Fair Compensation and Transparency in Land Acquisition, Rehabilitation and Resettlement (Odisha Amendment) Bill were passed.