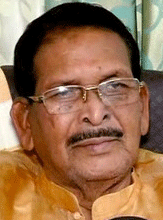 Former Chief Minister and senior Congress leader Hemananda Biswal passed away today.
Mr.Biswal breathed his last at a private hospital here while undergoing treatment, family sources informed.
He was 82.
Born on 1 December, 1939 at Thakurpada in Jharsuguda district.
Mr.Biswal was Chief Minister of the State for two terms from 1989 to 1990 and from 1999 to 2000.
He was elected to the Odisha Assembly for the first time in 1974.
Mr.Biswal was elected to the State Assembly as MLA six times.
In 2009 he was elected as an MP from Sundargarh.
Prior to his election as an MLA he was Chairman of Kirimira Panchayat Samiti.