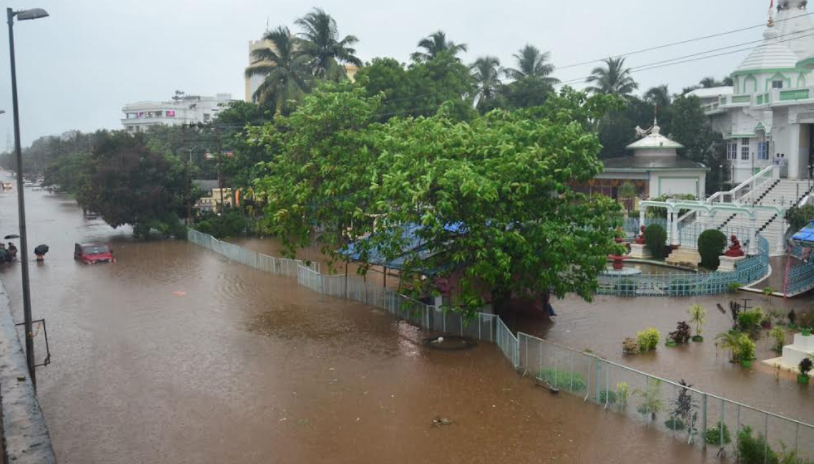 Bhubaneswar: Heavy rainfall continues to occur in many parts of the State since Sunday morning forcing the Government to close down schools in 12 districts for two days. At least four death cases have been reported from different parts of the State, till evening.   
The deep depression over north coastal Odisha moved further west-northwestwards during past 6 hours with a speed of 13 kmph and lay centred about 50 km east-southeast of Keonjhar and 100 km northwest of Chandbali, the IMD said.
It is very likely to continue to move west-northwestwards across north Chhattisgarh & Madhya Pradesh during next 48 hours. It is very likely to weaken into a depression during the next 12 hours, it said.
Under its influence heavy rainfall occurred in coastal, northern and interior pockets of the State since Sunday morning. Highest 530 mm rainfall recorded at Astaranga in Puri district, followed by Kakatpur (525 mm), Balikda (440 mm) in Jagatsinghpur district, Kantapara (381 mm) in Cuttack district and Niali (370).
With 341 mm rainfall in 24 hours (till 8.30 a.m. of Monday), Puri recorded the highest rainfall in a day in 87 years during the month of September, said weather scientist at Bhubaneswar Met centre, Umashankar Das.
Similarly, capital city Bhubaneswar also broke a 63-year-old rainfall record in this month as the city witnessed 195mm rainfall. On September 9, 1958, the city had received 163 mm rainfall, he said.
Most of the streets in different parts of Bhubaneswar and Cuttack cities were waterlogged following the heavy rainfall. Flood water entered into various low lying areas including railway station and Kedargouri temple in Bhubaneswar. The rain water also entered into Acharya Harihar cancer hospital in Cuttack causing problems for the patients.
Commissioner of Cuttack Municipal Corporation (CMC), Ananya Das said water discharge at the cancer hospital is under way while dry food has been arranged for the people in water logging area.
The Jagatsinghpur district administration has evacuated over 1800 people from low lying areas to a safer place. As per preliminary estimation, agriculture crops over 52,900 hectares has been affected due to the heavy rain, said Jagatsinghpur Collector Sangram Mohapatra.
Predicted very heavy rainfall today, the Met Centre has issued a 'Red' (take action) warning for Sambalpur, Deogarh, Angul, Sonepur, Dhenkanal, Jharsuguda and Bargarh. districts. Orange warning (be prepared) has been issued for Bolangir, Sundargarh, Boudh, Keonjhar, Khordha, Jagatsinghpur, Puri, Kendrapada, Balasore, Bhadrak, Jajpur and Cuttack districts.
The weather office advised people to avoid movement in affected areas as there is a possibility of flash floods/water logging in low lying areas. There will be reduction in visibility that may cause traffic congestion in city areas, it said.
Meanwhile, the School and Mass Education Minister Samir Ranjan Dash said schools have been closed in 12 districts for two days (today and tomorrow) in view of the heavy rainfall warning.
All the schools in Puri, Khordha, Cuttack, Jagatsinghpur, Kendrapara, Dhenkanal, Nayagarh, Sambalpur, Deogarh, Angul, Sonepur and Bargarh will remain closed for two days- September 13 and 14.
The announcement came after a meeting between the Special Relief Commissioner (SRC) PK Jena and the School and Mass Education Department Principal Secretary Satybrata Sahu, sources said.
Deaths of at least four persons have been reported from various places of the State today. While two death cases were reported from Kendrapara, one each case reported from Khurda and Cuttack districts.
Major rivers in Odisha were in spate following incessant rain triggered by low pressure and subsequent deep depression over the Bay of Bengal.
Official sources said the water level in Devi (Alipingal), Brahamani (Panposh and Jenapur) Baitarani (Akhuapada) Subarnarekha (Rajghatta), Vansdhara (Gunnupur) and Rushikulya at Purusottampur are rising.
Except for the Jalaka river which is flowing above the danger level, all other rivers are flowing below the danger level. The Janaka river is flowing at 05.68 metres at Mahtani against the danger level of 05.50 metres.
The sanctum and sanctorium of several temples including the famous Akhandalamani temple at Bhadrak and Kedargouri temple in Bhubaneswar were submerged.