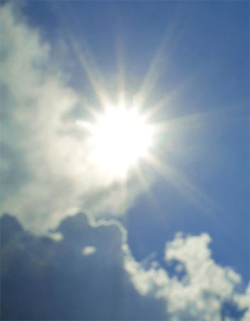 Bhubaneswar: The Bhubaneswar Centre of India Meteorological Department (IMD) said on Thursday said there will be no respite from the prevailing heatwave in the State for another three days. After that, the mercury may slightly come down by 2 to 3 degrees Celsius.
"No large change in maximum temperature (day temperature) during next three days and slight decrease about 2°C in subsequent two days over the districts of Odisha," said the Met Centre.
The maximum temperature is very likely to be more than 40 degrees Celsius and it is likely to be above normal by 3 to 5 degrees at many places over districts of interior Odisha and 2 to 3 degrees more than the normal temperature at a few places of coastal Odisha during next three days, it said.
Further the weather office informed that heat wave condition very likely at isolated places over the districts of Sundargarh, Jharsuguda,Deogarh, Keonjhar, Mayurbhanj, Angul, Sambalpur, Bargarh, Sonepur, Boudh, and Bolangir Friday, and over the districts of Sundargarh, Jharsuguda, Sambalpur, Bargarh, Sonepur, Boudh, and Bolangir on April 30.
The IMD advised the people to take precautionary measures while going outside during the day time between 11 AM to 3 PM during the next three days.
Farmers are advised to continue irrigation activities in sugarcane, summer maize, pulses and other crops and vegetables, it added.
Meanwhile, this season's highest temperature was 45 degrees Celsius at Boudh on Thursday. According to the Met Centre, 25 places in the state have recorded a maximum temperature of 40 degrees Celsius or above, of which eight weather stations reported a temperature of 44 degrees or above.
The maximum temperature was 44.5 degrees at Deogarh & Bolangir while Jharsuguda recorded 44.4 degrees, followed by Angul (44.3), Titlagarh (44.2) Sonepur (44) and Sambalpur (44).
The mercury remained between 43 degrees and 44 degrees at places like Sundergarh, Hirakud, Bhawanipatna, Talcher and Bargarh.
Capital City Bhubaneswar and neighbouring Silver City witnessed a maximum temperature of 39.8 degrees and 40 degrees, respectively