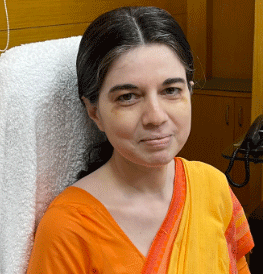 Bhubaneswar: With the IMD's prediction on formation of a cyclone over Bay of Bengal during Diwali, the Health & Family Welfare Department has prepared an Action Plan and asked all Collectors and concerned officials to implement it.
Secretary Health and Family Welfare Shalini Pandit has written to all Municipal Commissioners, Collector, Director of Capital Hospital, Director RGH Rourkela, CDM & PHOs and Superintendents of all Government Medical Colleges & Hospital in this regard.
During the post-monsoon season, there is the possibility of flood/ cyclone due to sudden low pressure. This warrants possible mass causality, disease outbreak and other emergency situations, Pandit said.
She asked the officials to ensure sufficient stock of essential medicines for flood related diseases, water purifying tablets, anti-snake venom, bleaching powder, chlorine tablets, lime powders etc in hospitals at different levels.
Necessary steps need to be taken for shifting of the pregnant women in vulnerable areas to Maa Gruha. Pregnant women having an expected date of delivery (EDD) within the next l0 days should be shifted to the nearest Government hospital having a safe delivery facility, the Secretary said.
The hospital authorities were asked to ensure power backup arrangement in all PHCs, CHCs, DHH and other hospitals.
In the action plan, the Department has asked the officials to ensure functioning of control room 24X7 at district and block level and readiness of district and block rapid reaction team (RRT).
The health officials will have to coordinate with emergency departments and other emergency rescue and response teams.
In case of cyclone, the hospital windows will be sealed while indoor patients will be shifted if necessary.
Arrangements already made to provide casualty services 24X7 at all health institutions. Medical team will be formed to take care of the evacuated people in temporary shelter with medicine & all other logistics uninterrupted till normalization of situation.
Mobile medical teams will render the services regularly to displaced persons at their place of shelter and in marooned villages. Contingency plans will be prepared to open Medical Relief Centers (MRC) at strategic places to be done by CDM & PHO immediately, as per the action plan.
All the Ambulances 108/102 / RBSK vehicles of different health institutions of the districts are kept in readiness for management of emergency situations. The healthcare authorities will have to submit a situation every day by 6 pm to State headquarters.
Notably, the IMD said that the cyclonic circulation lies over north Andaman Sea and neighbourhood since yesterday. Under its influence, a low pressure area is likely to form over southeast and adjoining east central Bay of Bengal during next 24 hours.
It is likely to move west-northwestwards and concentrate into a depression by October 22 morning over Central Bay of Bengal. It is very likely to intensify further into a cyclonic storm over west central Bay of Bengal during subsequent 48 hours, it said.
However, the Met department neither predicted the possible path or intensity of the cyclone nor issued any warning for Odisha. It has advised fishermen not to venture into deep areas of west central adjoining northwest Bay of Bengal from October 22 morning.
If the cyclone forms, it will be named as Sitrang, a name given by Thailand.