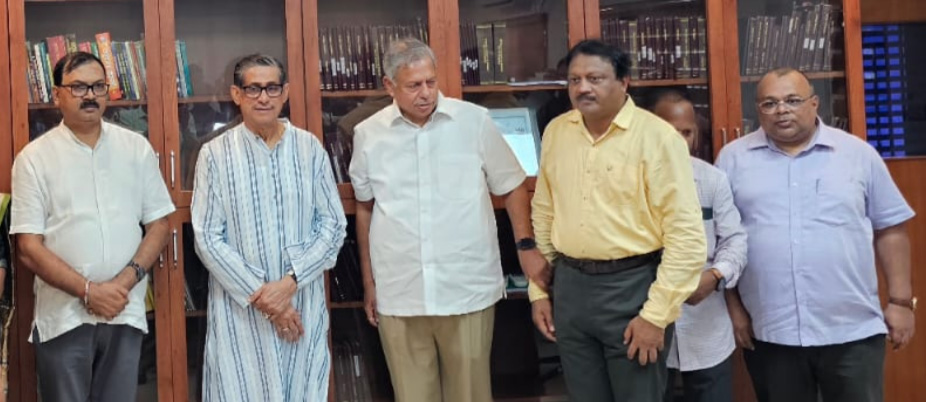 Bhubaneswar: In a noble gesture, Spiritual Thinker, Author and  Philanthropist, Guruji Chandra Bhanu Satpathy has donated around 1000 very important and rare books to Harekrushna Mahatab State Library.
Very old and rare books on Odia grammar, literature, novels, and magazines have been stored in a special book shelf in the State Library. Many of the books are more than 100 years old.
Guruji Dr.Satpathy inaugurated the library room in presence of Additional Chief Secretary (ACS) Odia Language Literature & Culture Department, Satyabrata Sahu and Advocate General Ashok Parija.
Director Culture Dillip Routray and other senior officials of the Department of Odia Language Literature and Culture were present here.
ACS Shri Sahu, an ardent follower of Guruji organized the entire arrangement for the benefit of large number of students, who are flocking to State Library to gain knowledge.
Vital information related to State's art, culture, history, literature, and socio-economical condition is mentioned in the books. These books will greatly benefit students, researchers and the general public, said the Guruji.
He said the old books were stored in a library in Noida in Uttar Pradesh. Many national and international level publishers wanted to take those books. However, Guruji wanted to donate those to the State.
The books have been collected by Guruji and his father Late Gokul Chandra Satpathy. On this occasion, Guruji felicitated the persons who brought those rare and important books to Odisha.
Speaking on the occasion, ACS Shri Sahu said books are like the wealth of the nation and all steps have been taken for proper storage of these books.
The Harekrushna Mahtab State Library was completed in 1959. In 1967, it was named as Gandhi Bhawan to commemorate Mahatma Gandhi's birth centenary. In 1987, the government decided to rename the State Library as Harekrushna Mahtab State Library after Dr Harekrushna Mahtab, he said.
In 1987, too, the library was renovated and the entire four-storied building was utilised for the functioning of two Libraries i.e. State Library for the entire State of Odisha and another Public Library for Bhubaneswar city.
The State Library is one of the premier libraries of Odisha. Every day hundreds of students and youngsters preparing for various competitive exams come here to study. At least 500 students can sit together in the Library at once, he said.
As the library has become old, the process is on for complete transformation of the State Library with a cost of Rs 20 crore under 5T Initiative of the Government, informed the ACS Shri Sahu.