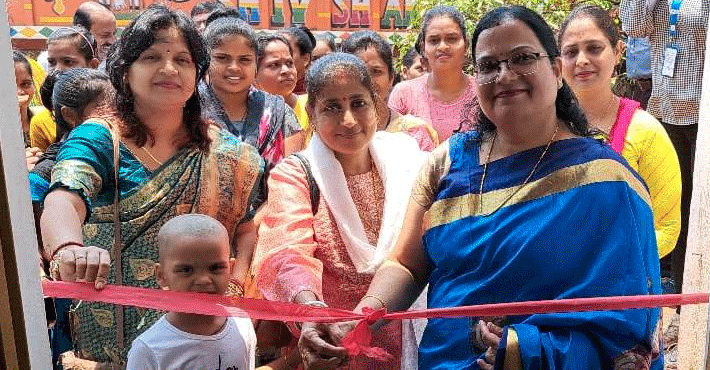 Gopalpur: In a bid to make women self-reliant, Gopalpur Port Limited (GPL) under its Corporate Social Responsibility (CSR) initiative inaugurated a training centre for beauticians at Gopalpur Port's CSR Complex in Dubuli Chowk. The unique initiative has been taken to boost the participation of women in the entrepreneurship ecosystem and empower the passionate rural women of the port peripheral. 
In the preliminary phase, 30 women candidates from nearby Panchayats have registered their names. Gopalpur Port distributed free beautician kits and cosmetics to them. Shri V J Rao, Chief Executive Officer, Gopalpur Port, Shri Ajay Kumar Mishra, Senior Vice President (Human Resource & Industrial Relations), Asst. Vice President, Shri C R Bahinipati, Shri Karthik Deuskar and Capt. Sandeep Agarwal, Directors of Mumbai Office were prominently present in the inaugural ceremony.
On behalf of Gopalpur Port Ladies Club, Smt. Bisweswari Mishra, Smt. Chhandashree Mishra, Smt. Pankajini Mahapatra, Smt. Saumya Sucharita Patnaik participated in the opening ceremony and encouraged the women to utilise the benefits for skill development. The program was conducted under the supervision of Senior Vice President Shri Ajay Kumar Mishra whereas, in the inaugural ceremony Shri Mishra highlighted the importance of education, health and financial independence of rural women in our society.
The program was attended by the wives of many senior employees and all women employees of the port.
Recently, Gopalpur Port launched the "Maa Handishala" programme under its CSR wing programme. Gopalpur Port extended a helping hand to women self-help groups in this effort, many women from nearby villages started home based food preparation and distributed under the 'Maa Handishala' banner, which has now become a reliable source of income for them. On this occasion, the CEO of Gopalpur Port, and other senior port officials and women staff met the women of the self-help group and wished them well and provided them the kitchen utensils.
The port is committed to take necessary steps to improve rural women's skill and extend further support in their favour.