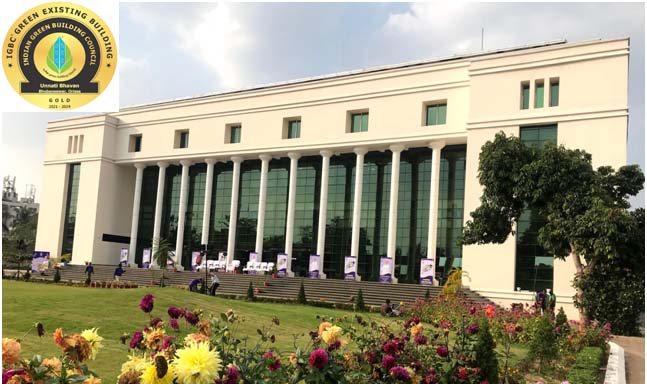 Bhubaneswar: Indian Green Building Council (IGBC) has accorded Gold Standard to "Unnati Bhawan" at Satya Nagar, Bhubaneswar, the Green Complex of the Department of Housing and Urban Development.
In fact "Unnati Bhawan" is an ideal demonstration of Green Building .This is Designed by Ar Akshay K.Beuria and Ar Shailaja of Designers Forum, Bhubaneswar.
This complex has come up with built up area of 93250 square feet has housed various organizations under the Housing and Urban Development (H&UD).
Offices located in "Unnati Bhawan" are OWSSB,WATCO,JAGA Mission, OUHM .

The building has been designed as a Smart Building with Contemporary look and modern facilities and has adopted several unique green building features in its design and operation; to ensure sustainability; such as Highly energy efficient with EPI (Energy Performance Index) of 54 kWh/sq.mt/yr, Roof top solar power plant with 110KW installed capacity, DEWATT (Root Zone) waste water treatment system to reuse the treated water in landscaping.
Complex is 100% Rain water harvesting system through underground recharge pit and steps taken for Preservation of existing trees through sensitive site planning and Solid waste management system through appropriate collection, storage & disposal facilities has been done.
IGBC is very closely working with several Central and State Government agencies to promote the green building movement in the country. Some of the Central and State Government agencies have given recognition to IGBCs' Green Rating Systems.