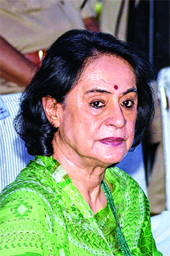 New Delhi: Daughter of Legendary Leader Biju Patnaik and eminent author, documentary film maker, and journalist Geeta Mehta today passed away in Delhi.
She happens to be the elder sister of Chief Minister Naveen Patnaik. She was married to renowned American publisher late Sonny Mehta.
Born in 1943 to Biju and Gyan Patnaik in Delhi, she had her education in India and University of Cambridge UK.
She had penned five books Karma Cola,Snake and ladders , A River Sutra, Raj and The Eternal Ganesha.
BJD Veteran A U Singhdeo while condoling her sad demise, said "I am really sad about her sudden departure.". "She was a 'Literary Titan' and her creativity was really great."
She was very loving, caring and benevolent soul, said Shri Singh Deo, adding her demise will create huge void in the Literary World.