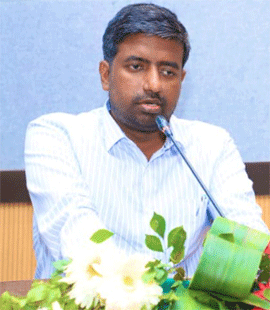 Bhubaneswar: The Government of India has selected Ganjam as the 'Best District' in the field of water resources conservation and management.
For the best efforts made by the District Administration led by Collector Dibya Jyoti Parida, the Ministry of Jal Shakti has selected Ganjam District for the 4th National Water Awards, 2022.
Ganjam District will be conferred with the first rank in Best District category of the National Water Awards, 2022, very soon.
Under Best District category of the Award, three Districts are selected, of which Ganjam ranked at top.
Secretary of Ministry of Jal Shakti, Pankaj Kumar has informed Ganjam Collector Dibya Jyoti Parida about the selection of the district for the prestigious national award.
The Ganjam District Collector will be felicitated at a national-level event by a trophy and citation as an acknowledgement to his efforts. The award ceremony will be organized in due course.
The National Water Awards (NWAs) were introduced in 2018 to recognize and encourage exemplary work and efforts made by States, Districts, individuals, organizations, etc. across the country in accomplishing the government's vision 'Jal Samridh Bharat'.
It aims to sensitize the public about the importance of water and motivates them to adopt the best water usage practices. The award winners in different categories will be presented with a citation, trophy, and cash prize.
The objective of the National Water Awards is to encourage the stakeholders to adopt a holistic approach toward water resource management in the country as surface water and groundwater play a significant role in the water cycle.
In order to embrace these objectives, the first edition of the National Water Awards was introduced in the year 2018 by the Department of Water Resources. The distribution ceremony was successfully organized on 25 February 2019 in New Delhi, and 82 winners under 14 categories were awarded.
Thereafter, the 2nd National Water Awards 2019 was successfully organized, and 98 winners under 16 categories were awarded by the Vice President of India on 11-12 November 2020.
The 3rd National Water Awards were successfully organized on 29 March 2022 and 57 winners under 11 categories were felicitated with awards by the President of India.
All applications received for the 4th National Water Awards were placed before the Jury Committee which is constituted by the Department of Water Resources, River Development, and Ganga Rejuvenation. No Award is conferred except on the recommendation of the Jury Committee.
The recommendation of the Committee is submitted to the Union Minister (Jal Shakti) for approval. Thereafter, the names of the winners are announced on a suitable date.