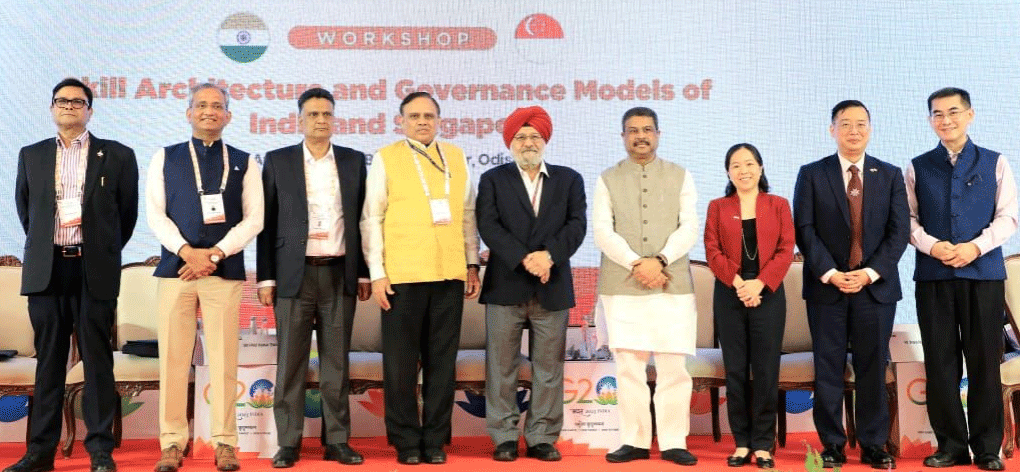 Bhubaneswar: The third Education Working Group meeting under G20 kicked off here on Wednesday with a seminar on 'Building Capacities for Lifelong Learning in the context of Future of Work' at Institute of Minerals and Materials Technology (IMMT).
The meeting is a continuation of the previous two working group meetings held in Chennai and Amritsar earlier, aimed at discussing and implementing innovative ideas and policies to globally transform the education sector.
Over 60 delegates from G20 member countries, invitee countries and international organisation countries are participating in the three-day meeting.
Addressing the occasion, Subhas Sarkar, Minister of State for Education, emphasised on the value of skill education and informed about the many skilling initiatives offered by the government in order to create a future-ready military.
Shri Sarkar said that today's seminar builds on the deliberations held in the last two webinars on the evolving world of work, and the importance of foundational skills and lifelong learning.
It aims to strengthen human and institutional capacity for the delivery of 'future skills' for a `future-ready' workforce through upskilling, re-skilling and lifelong learning while ensuring inclusivity, he said.
Guided by the National Education Policy (NEP) 2020, the government of India is rethinking the ways deployed to develop, assess, and recognize skills, primarily through the integration of academic and vocational education, he added.
Nirmaljeet Singh Kalsi, Chairperson of the National Council for Vocational Education and Training (NCVET), also spoke at the seminar.
The seminar included three panel discussions, with panelist participation from Brazil, Spain, UAE, Singapore, Russia, South Africa, Mauritius, OECD, UNICEF, Australia, and the United Kingdom.
Delegates also attended the G20 Future of Work Exhibition where they saw cutting-edge technology and innovative ideas that are changing the way we work and learn. The exhibition features active representation from industry, academia, government agencies, multilateral agencies, startups, and other organisations, as well as an experience zone on the future of work and huge technology exhibits.
Apart from the discussions , the three-day meeting also includes a cultural extravaganza, featuring traditional Odissi performances. The delegates will get a chance to experience the rich cultural heritage of Odisha and learn more about the state's history and traditions.
On the last day of the seminar, the delegates will visit the Konark temple. The temple is a symbol of the state's rich cultural heritage and is a popular tourist destination.