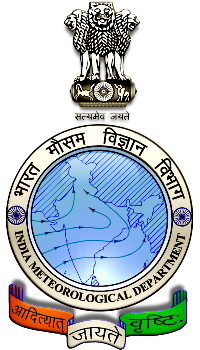 Bhubaneswar: The India Meteorological Department (IMD) on Thursday said that a fresh Low Pressure area has been formed over northeast and adjoining areas of east-central Bay of Bengal, Bangladesh & Myanmar coasts in the morning.
It is very likely to move north westwards and become a well marked low pressure area during the next six hours. Continuing to move north westwards, it is likely to concentrate into a depression by tomorrow morning over North Bay of Bengal and adjoining West Bengal & Bangladesh coasts, the IMD said.
Thereafter, the system is likely to move west-north-westwards across Gangetic West Bengal, North Odisha, Jharkhand and North Chhattisgarh.
Under its impact, light to moderate rain has occurred at a few places over the districts of coastal Odisha and at one or two places over the districts of interior Odisha, it said.
A good amount of rainfall recorded at Odagaon (Nayagarh), Binjharpur (Jajpur), Th Rampur (Kalahandi), Paralakhemundi (Gajapati), Marsaghai (Kendrapara), Belgaon (Bolangir), Dabugan (Nabarangpur), Mundali (Cuttack), Nimpara (Puri), Jamankira (Sambalpur), Umarkote (Nabarangpur), Jhorigam (Nabarangpur), Anandpur (Keonjhar), Kalampur (Kalahandi), Kuchinda (Sambalpur), Nayagarh (Nayagarh) and Rajkishorenagar (Angul).
The Low Pressure will also bring thunderstorm with lightning at one or two places over the districts of Balasore, Bhadrak, Jajpur, Kendrapara, Cuttack, Jagatsinghpur, Puri, Khurda, Nayagarh, Ganjam, Gajapati, Keonjhar, Mayurbhanj, Angul, Dhenkanal, Boudh, Kandhamal and Kalahandi today.
Heavy to very heavy rainfall is very likely to occur at a few places with extremely heavy rainfall at one or two places over the districts Keonjhar, Mayurbhanj, Kendrapara Jagatsinghpur, Cuttack, Dhenkanal, Angul, Deogarh, Sundargarh, Sambalpur, Sonepur, Boudh, Bolangir, Jajpur, Bhadrak and Balasore tomorrow.
Similarly, few places of Jharsuguda, Sundargarh, Keonjhar, Deogarh, Sambalpur, Bargarh, Sonepur, Bolangir, Mayurbhanj, Angul, Boudh, Kalahandi, Nuapada, Nabarangpur and Dhenkanal districts would experience heavy downpour on August 20.
After the maximum amount of floodwater discharged by Hirakud dam passed through the rivers in Kendrapara, Jagatsinghpur, Puri and Cuttack on late Wednesday night, the flood situation is gradually improving.
The State Government is now gearing up to deal with the possible situation of another spell of heavy rain due to the fresh low pressure formed on Thursday, said SRC PK Jena.
As the meteorological department has predicted heavy rainfall in north Odisha, the government asked district collectors of Mayurbhanj, Keonjhar, Balasore, Bhadrak and Jajpur to remain on alert.
"District Collectors of the northern states have been instructed to monitor the situation even though we do not see any flood in north Odisha," the SRC said, adding that water flow will be maintained within nine lakh cusec at Mundali barrage near Cuttack.
The state government has received reports of missing of two minors from Cuttack and Balasore, and the district collectors concerned are enquiring about the information, Mr.Jena said.
Over 4.67 lakh people in 12 districts have already been affected by the flood in the Mahanadi river system, another official said.
Water Resource EIC BK Mishra said the water level in Hirakud reservoir declined to 624.43 feet at 11 am from 625.10 feet at 6 am.
Mr.Mishra said the water level at Mundali barrage also declined to 1,010 lakh cusec (cubic feet per second) at 9 am as against 10.18 lakh cusec three hours before. The Government has closed down
In Bhubaneswar, the flood in Daya river, a distributary of Mahanadi, flooded the suburbs of Sundarpada and Pradhan Sahi with people in several high-rises rescued by fire services and ODRAF personnel.