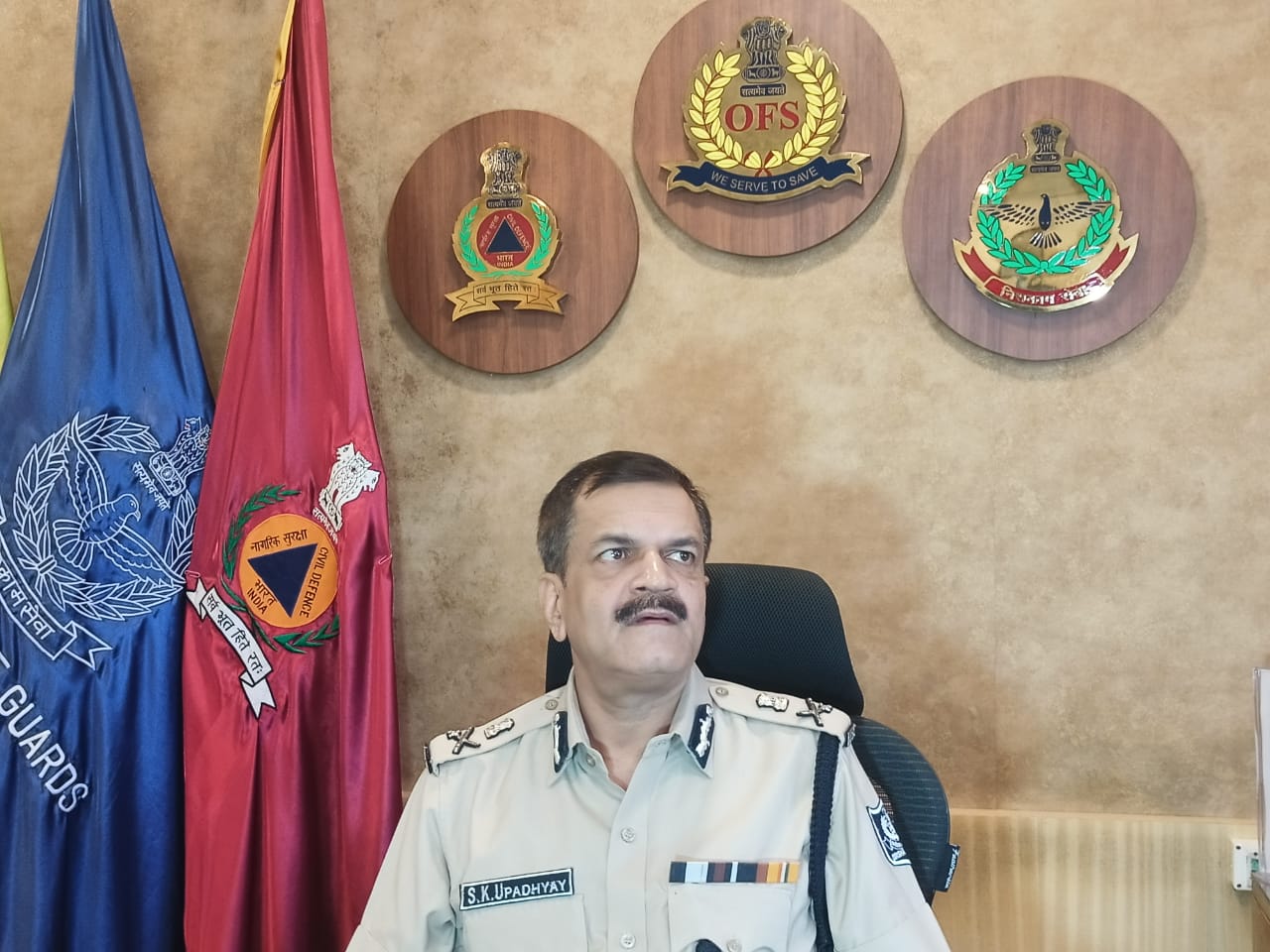 Cuttack: The Directorate of Fire Service is fully prepared to carry out rescue, relief and restoration operation for the possible cyclone ASANI, which will take shape over Bay of Bengal on May 8.
Briefing media persons here, Fire Service DG SK Upadhyay said, "We have taken required precautionary steps for the cyclone. Our Fire Station staff have checked all equipment like generators, aska light, etc in all cyclone shelters in coordination with the local Block office staff. This exercise was completed yesterday."
As per SRC's directive, 175 specialised teams have been formed to deploy in the likely affected districts to restore the post cyclonic activity. Each Special team are having power saw, combi tools, tower lights and other rescue equipment with them, informed the DG.
DGP, Fire Services emphasised for the deployment of Fire Services personnel in the most affected areas as per requirement of the local district administration. He also instructed all Fire Service personnel to follow the Covid guidelines during their work.
Further, in view of the above cyclone and heavy rainfall, it has been decided to pre-position the pumps at the water logging areas of different towns like Cuttack, Bhubaneswar, Puri, etc. At least 32 pumps in 18 locations of Bhubaneswar have been deployed.
All 339 Fir Stations of Odisha Fire Service are in readiness along with all modernized equipment to meet any eventuality, he said.
Vehicles have been kept on readiness for mobilising Fire Service units from non-affected areas to cyclone-hit areas, Upadhyay said.
The Fire Service Directorate is committed to maintain Zero Causality policy of the State Government, he assured.
Upadhyay on Saturday visited Odisha Fire and Disaster Response Academy (OFDRA), Baramunda in presence of Fire Officer (Principal) OFDRA & staff and reviewed the infrastructural facility.
OFDRA has started functioning since November 26, 1971 as Odisha Fire Service training school and subsequently up-graded to OFDRA w.e.f-April 22, 2015.
It is pertinent to mention here that OFDRA was established by the State Government in the year 1971. The aim and objective of this training academy is to impart training and to build the capacity of Odisha Fire Service personnel to make them more professional in skill.
Training on PT, Squad Drill, Ladder Drill, Pump Drill, Hydrant Drill, Vehicle Driving, Surface BA Set training and Underwater BA set training are being imparted to trainees by specialized trainers of Odisha Fire Service.
These training facilities have also been provided to Fire Service personnel from other state Fire Service organizations and establishments like Andhra Pradesh, Nagaland, Maharashtra, Rajasthan, Haryana, Kerala, Gujarat and INS Chilka etc.
Since its inception 7,882 trainees from Odisha Fire Service have attended various training programmes till date. Additionally, 18,783 trainees from various State fire unit, Home Guards, Civil Defence Volunteers, ODRAF, Fire Safety Supervisor and Prasar Bharati of Odisha, have also undergone training at this establishment and completed the course successfully.
On completion of full- fledged infrastructure it can cater as an unique training academy of its kind in Eastern part of India.
In addition to above, Yesterday, as per direction of Hon'ble DG Fire Service Fire Safety audit has been conducted by all the Fire Stations of the State in most of the LPG go-downs across the State and intimated the deficiencies, issued Fire Safety Guidelines to avoid any fire mishap in the scorching heat of summer.
Moreover, today DG Fire Service has also directed all Fire Stations of Odisha to visit all Petrol pumps, Multiplex/Malls of their jurisdiction to verify Fire Safety Compliances, Operational readiness of Fire Fighting installation and suggest appropriate corrective measures for prevention of fire hazards.