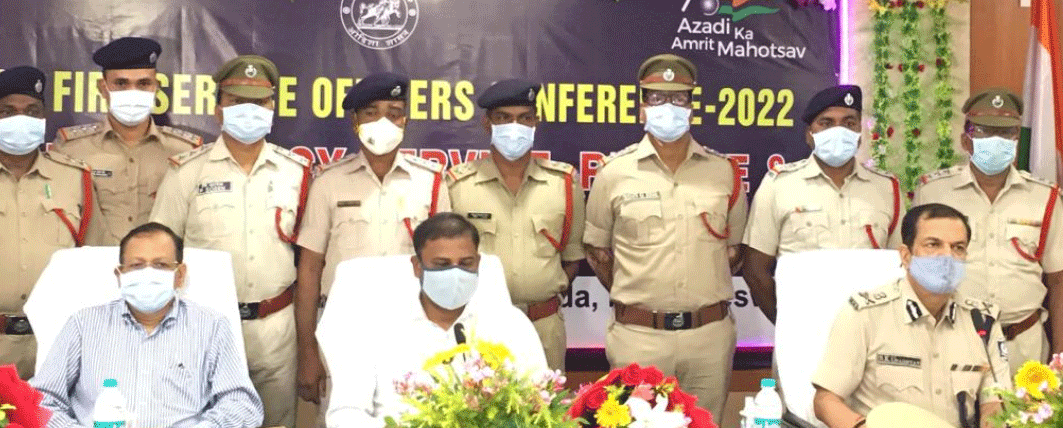 Bhubaneswar: Noble Services rendered by Fire Services Officers of were lauded and appreciation was for their bravery and sincerity, while handling disasters in the State.
Speakers in a day long senior Fire Service Officers conference was held here at Odisha Fire and Disaster Response Academy (OFDRA) on Wednesday.
Minister of State for Home, Tusharakanti Behera inaugurated the conference in presence of Development Commissioner Pradeep Kumar Jena.
DGP Fire Services Santosh Kumar Upadhyay graced the occasion and elaborated efforts taken up by the Tem Fire Services in Odisha.
Mr.Behera emphasised for use of new technology in management of fire incidents and during natural disasters like floods.
Mr.Jena lauded the Fire Service officials for their bravery work to achieve State Government's Zero Casualty Mission during natural disasters.
The conference was held to discuss the professional challenges and preparation of roadmap of Odisha fire service @2047 under the leadership of DGP Fire Service Odisha Santosh Kumar Upadhyay.
On this occasion the senior officers of Fire Service presented power point presentations on various topics related to their professional challenges.
Discussion held on disaster management in rural areas, urban areas, chemical disaster and urban disaster, fire safety recommendation & fire safety certificate with special emphasis on fire safety rules and subsequent amendments.
The officials also discussed about the operational and administrative difficulties of field functionaries of fire service organisation.
Road map has been chalked out for improvement of training facility, to resolve operational and administrative difficulties on departmental proceeding and 5T mandate.
Besides, topics like modernization of equipment, accounts related issues, infrastructural development of building Fire Service Manual, fire safety standards, passive fire protection, human behaviour & fire, fire-related building defects, fire engineering, industrial fires, wildlife and fires, metro & train fires, disaster monitoring and mitigation, emergency preparedness and risk mitigation, etc were discussed during the conference.
The valedictory session was addressed by Moreshwar Kudkilwar, Deputy Fire Adviser, Government of India, MHA New Delhi on Roadmap on Fire Prevention @2047 with special emphasis on gas, oil, chemical fire and use of drone technology etc.
Besides, an inhouse discussion was also conducted among the officers of Odisha Fire Service in the following points to prepare road map of Odisha Fire Service @2047.
OFDRA Chief Ramesh Chandra Majhi coordinated the entire day long State Level Meet of Senior Fire Officers, which deliberated the critical issues and challenges the Team Fire Service face during disasters.