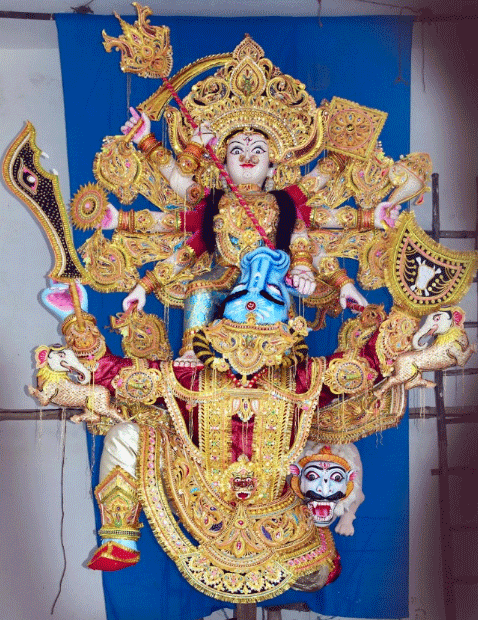 Bhubaneswar; With the weakening of the low pressure area and reduction of rainfall activities across Odisha, the Durga Puja revelers have a gala time in enjoying the Dusshera festival on Wednesday.

The people, mostly women and children, who remained indoors for two days on Maha Ashtami and Maha Navami due to low pressure induced incessant rains, came out in large number to bid farewell to Goddess Durga in several puja pandals both in Bhubaneswar and Cuttack.
Reports of gala celebration of Vijaya Dashami were also received from different parts of the state. "Thanks Maa Durga that we could come out to see her on the last day of the puja. This time we lost two precious Maha Astami and Maha Navami," said Binodini Patra a houswwife.
Above 150 puja pandals each in the twin cities of Bhubaneswar and Cuttack, which witnessed thin footfalls, suddenly become crowded and choked traffics, said a senior police officer in the Commisisonrate of Police adding that adequate arrangement was made for the immersion ceremony on Thursday.
In Bhubaneswar, the Ravan Podi or burning of demon Ravana's effigies with spectacular fireworks were held at four places like Pahala, Naharkanta, Jharpada and Baramunda. The police made elaborate arranegemtn for the fireworks and the organizers had to abide by at least 28 provisions for the occasions, said DCP Prateek Singh.
At Kalibari in the state capital, women participated in the traditional 'Sindur Khela' (smearing vermilion on each other's faces) and offered sweets and prayers to the goddess before bidding her farewell for the year.
As part of Vijayadashami puja, the pandals conducted Aparajita puja, Dashami puja and Somanath rituals followed by Purnahuti of the Goddess. Dashami puja marked end of the Durga puja.

In Cuttack, as many as 28 puja pandals had Chandi Medhas or silver tableaux.

Meanwhile, the IMD said that the ow pressure area over the west-central Bay of Bengal off Andhra Pradesh coast has weakened leading to reduction in rainfall activities. Though there were some spells of light rainfalls before noon, the weather condition changed thereafter, said Director of Regional Meteorological Centre, HR Biswas.
Bhadrak in coastal region recorded the highest 54 mm rainfall followed by Balasore (10). All other stations recorded below 10 mm rainfall between 8.30 am to 5.30 pm, met office said adding that rainfall likely till Thursday morning.

The IMD said that the state has recorded 24.9 mm rainfall in the last 24 hours under the influence of an active monsoon and low pressure area, which is 329% more than the normal rainfall of 5.8 mm.

Ganjam district recorded maximum rainfall of 71.6 mm, which is 855% more than the normal rainfall of 7.5 mm The twin cities of Odisha are likely to receive spells of rain for the next seven days.