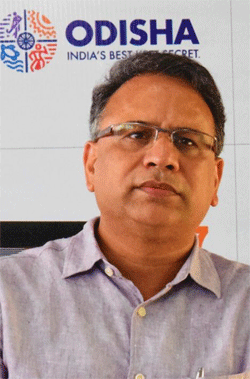 Bhubaneswar: While Odisha Government is walking extra mile with a focus on spearheading development, governance and services, Bankers were asked to move accordingly so that it will help out the state in a big way.
Principal Secretary Finance, Vishal Dev has approached the Bankers serving in the State, while asking them to walk extra mile for growth and development, which is the prime target of the State Government.
Shri Dev was addressing the Bankers in the latest SLBC Meeting held here on 7 September, where he lauded the efforts of the Bankers in improving the Credit-Deposit Ratio and implementing Annual Credit Plan (ACP) to the fullest extent for the first time in the State.
Principal Secretary Finance thanked the Bankers for improving CD Ratioin the State, which was 60 Percent in March 2020 and has been scaled up to 81.5 Percent 30 June, 2023. In March 2021, it was 62 Percent and in in March 2023, it went up to 80 Percent.
Thanks to overdrive of the Bankers, CD Ratio is continuously on rise and the State Government has expressed satisfaction over the progress.
Similarly, Annual Credit Plan (ACP), which was at Rs.1.10 Lakh Crore in 2021, it went up to Rs.1.35 Lakh Crore in 2022.
Best part of the story is for the first time ACP has been achieved 100 Percent. Never in the history such feat was achieved, said sources.
ShriDev thanked the Bankers for this huge achievement and urged them to work in tandem along with the State Government for development of the State.
While in other States, the Average Loan Size (ALS) is much bigger, that is lacking in Odisha.
Bankers point out that due to high level of Non-Performing Assets (NPA), they are not extending the bigger credit facilities.
However the State Government was of view when NPA is much higher in Uttar Pradesh and Haryana, ALS is much bigger in those states.
Principal Secretary Finance ShriDev reeled out details on NPA in other states vis-à-vis Odisha.
While NPA is Odisha is much less, which is only 5.88 Percent as compared to 10 Plus Percent in UP and 8.4 Percent in Haryana, loan size is bigger in those states.
So the State Government has urged the bankers to change their mind set and extend more and bigger credit facilities in the State.
After lot of dogged pursuit, credit limit to Self Help Group has increased and now it stands at Rs.3.78 Lakh per SHG, which was only Rs.1.7 Lakh in 2021.
ShriDev after taking over as Principal Secretary Finance in August, 2021, harped on more credit extension for the SHGs and Bankers have improved it from Rs.1.7 Lakh to Rs.2 Lakh, then to Rs.2.7 Lakh and now Rs.3.78 Lakh.
Another matter of concern was outright rejection of loan applications by the Bankers, and ShriDev has opined that such practice is not at all acceptable and rejection should be based on reasonable and justifiable grounds.
Accordingly the bankers were asked to change their approach in dealing the loan applications and advised to be judicious, while considering the applications for credit facilities.