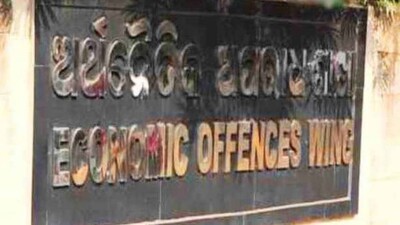 Bhubaneswar: The Economic Offences Wing (EOW) of Odisha Crime Branch has arrested two directors of a stock market advisory company for duping 400 investors worth Rs 5 crore.
The accused are Arpan Patel and Adyajyoti Nayak, both directors of IAAVIC Pvt. Ltd., which claims to be a stock market advisory company but actually runs Ponzi schemes masking it under share market garb on cyber platform.
The duo were arrested on March 10 from Mumbai and brought to Bhubaneswar after being produced before the Addl. Chief Metropolitan Magistrate, Bandra, Mumbai.
They were arrested against a case registered on the basis of a complaint filed by one Swadhin Kumar Sahoo of Binjharpur, Jajpur.
Mr.Sahoo has alleged that the two directors have cheated him and many other investors to the tune of crores of rupees giving false promises of high returns on their deposits/ investment in the stock market through their company.
Investigation of the case revealed that IAAVIC Pvt. Ltd. was incorporated on August 3, 2020 with ROC, Mumbai having its two directors namely, Arpan Patel and Adyajyoti Nayak (the present accused persons).
The EOW has also ascertained that during the year 2020-2021, the above two accused persons launched their website 'www.iaavic.com' and made wide propaganda through colorful brochures as well as through attractive videos circulated through You Tube, to attract the gullible depositors to invest in their Company under the false assurance/ promise to return hefty interest on their investment with the company.
In its YouTube video, IAAVIC Pvt. Ltd. represented itself as a Stock Advisory Company and assured the investors to invest their money in Stock Market and generate interest and promised to return 1% of the mutual profit on the invested amount to the investors on a daily basis through the bank accounts of the investors. One can join with an initial deposit of Rs 2,000 to Rs 1 lakh and there is auto pay-out & withdrawal provision.
Further, by promoting / joining a new investor, one can get 15 per cent as direct income and there is unlimited direct joining offer. The company had also assured the investors to return the principal amount within 15 days of investment, on demand by the investors.
The above two accused persons representing the company had issued login ID and Passwords to the investors as well as provided a toll free Number 1800-103-0334.
During the investigation, the Police also found that being lured with the scheme launched by IAAVIC Pvt. Ltd., the complainant had deposited Rs 15 lakhs in the company's account in instalments starting from July, 2021.
So far it has come to surface that during the same period the company represented through its accused Directors had collected more than Rs. 5 crores from as many as 400 investors of Odisha alone and duped them subsequently by not returning money to them.
It has also been ascertained that the company is neither a share broker/Sub-Broker in any Stock Exchange in India nor authorized by Stock Market Regulating Agency like SEBI to carry on any such business.
In the YouTube Videos, documents like PAN Card, ISO Certificate, ROC Registration etc were displayed to gain the trust of the investors and to attract deposits from them, whereas, these documents do not have any relevance with Stock Market or to make such huge profits, the EOW said.
These documents also do not permit them to deal in the Stock Market, yet they used those to defraud the investors. It has also been ascertained during investigation that both the accused directors have committed similar frauds and duped a large number of investors to the tune of multi-crores in the states of Jharkhand, Madhya Pradesh, Maharashtra (Mumbai), Gujarat, Rajasthan, West Bengal and Andhra Pradesh.
The victim investors of other States can contact the Investigating Officer of this case on mobile No 9437736412, the EOW said.
Both the accused persons had been staying in a rented house in Khar area of Mumbai and were spending lavishly. During their house search apart from many incriminating documents pertaining to the case, a number of costly mobile phones, laptops, hard discs and cash of Rs 90,000 have been seized by the police.