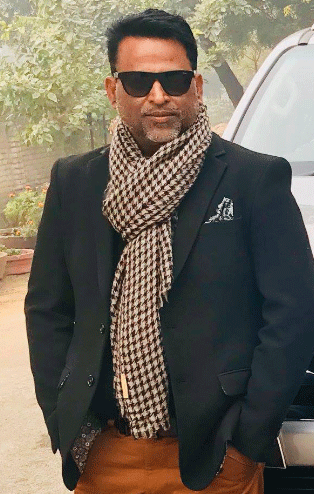 Bhubaneswar: A silent philanthropist and a popular name in Hospitality Sector, Rama Chandra Mishra passed away during treatment at AMRI Hospital here Tuesday.
Popularly known as 'RC' in the Hospitality Industry, Mr.Mishra was just 51 year old when he breathed his last while fighting against the COVID-19 pandemic.

He is survived by wife Anupama and two sons Ashutosh and Abhishek besides two brothers and one sister.
Mr.Mishra was last week admitted at the AMRI Hospital here along with his wife and son after testing positive for the infection and was in NiV and then ventilator support for 24 hours.
While his wife was recently discharged from the hospital, Mr.Mishra continued to remain in treatment.
His last rites were performed as per the Hindu rituals at a crematorium here in compliance with the COVID-19 protocol.
His elder son Asutosh lit the funeral pyre in presence of BJD MLA Ananta Narayan Jena, Congress Leader Manas Choudhary, and Hospitality Sector Honcho Souvagya Mohapatra, Senior Advocate, Prahalad Sinha, Mayfair group Managing Director Pooja Ray, Director Finance Prasant Panda, his large number of friends and others.
Though Mr.Mishra has settled in NOIDA of UP and become an active functionary of the Resident Welfare Association of Sector BCD 48, NOIDA, however he continued to keep in touch with Odisha and his birth place Baripada town.
Born on 28 October, 1970, Mr.Mishra preferred to undertake service for the downtrodden and needy people silently avoiding media glare.
During the cyclone Fani, he was instrumental in distributing nearly 10,000 solar lanterns among the affected people as the district remained dark due to snapping of electricity connection due to the very severe cyclone.
Mr.Mishra used to visit his native Gurunagar village in Bhadrak district and help people in getting good roads, electricity connection and other such basic requirements. However, he all along maintained a distance from media highlights.
However, Mr.Mishra was instrumental in formation of Tathya Media Group, an established Multi Lingual News Agency being run by his family members.
He was also one of the Advisors of Mayfair Group of Hotels and Resorts and popular among the 'who is who' in the hospitality sector in the national capital.
Mr.Mishra was a very close associate of former Union Minister and Hospitality Czar, Dilip Ray.

A grief-stricken Mr.Ray in his condolence message said, "I am devastated and completely broken by the untimely demise of RC Mishra. He has been one of my biggest pillars of strength for the last 27 years and today I feel a part of me has left. From politics to my hotel business, I used to depend on him a lot and even had appointed him in a key position in my trust with a hope that he would look after MAYFAIR and my family after me but little did I know he would leave me mid-way like this. His passing away leaves a void in my life that would perhaps never be fulfilled. I don't remember the last time when I cried but today when I received this news, I couldn't hold back my tears."