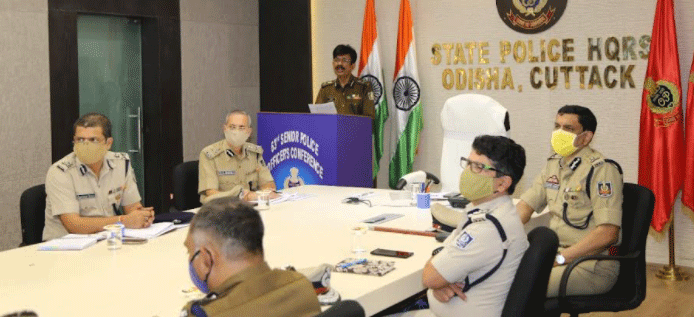 Cuttack: Odisha Police has listed maintenance of law and order situation in the state as the year 2022 happens to be an election year when three-tire rural and urban polls will be held.
The priorities of the Odisha Police were pointed out by Director General of Police (DGP) Abhay, who retires from government service on 31 December. He said this while addressing the inaugural session of the 63rd Senior Police Officers Annual Conference.
New DGP notified, S K Bansal also attended the conference through virtual mode.
Noting that the impact of the left wing extremism (LWE) have significantly reduced in the state due to proactive measures along with developmental activities, Abhay said: The priority should also be given to completely contain the Maoist menace in remaining areas.
"Control of organized crime, combating Narcotics trafficking, confiscation of traffickers property, offences against women & children and improvement in conviction rate and increased use of scientific evidence (Operationlization of DFSL in each district), are also the matters to be taken care of in the coming days," DGP said.
The DGP also said that Odisha Police has won the 1st prize for implementation of Inter-operable Criminal Justice System (ICJS) project. The awards were announced by the National Crime Records Bureau (NCRB) Thursday. He congratulated State Crime Records Bureau (SCRB) and State Forensic Science Laboratory (SFSL) for the achievement.
While highlighting achievements of the Odisha Police, Abhay said that reduction in area and influence of LWE, particularly significant improvement in cut off area of Malkangiri was a major success for the state force. He said the police have also achieved major success in taking strong action against narcotics trafficking, record seizure and confiscation of traffickers property.
This apart, the Odisha Police to certain success have effectively taken strong action against organised crime and maintained law and order. Besides, Odisha Police also played a major role in Covid enforcement with human face and enring smooth transportation of Liquid Medical Oxygen to different states.
He said the police have also made success in drastic reduction in passport verification time, ODRAF good work in disaster conditions, tracing of Missing children, execution of warrants and digitization of investigation process.
The three-day 63rd Senior Police Officers' Conference of Odisha Police beginning on Thursday will continue till December 18on Virtual Platform. Superintendent of Police of all districts, DCsP, Commandants of all Armed Police Battalions, Range IGPs, DIGPs, IPS Probationers, Senior Police Officers of various Police Establishment attended the Conference.