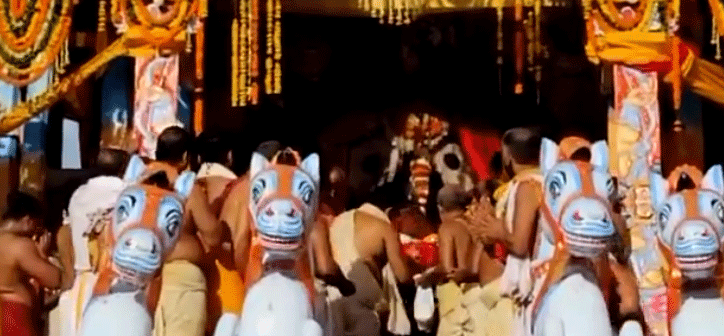 Puri: When devotees across the world are waiting to get glimpses of Lord Jagannath and his siblings on Ratha, Chief Administrator of Shree Jagannath Temple Administration (SJTA) Dr Krishan Kumar uses his Twitter handle to meet the thirst of such devotees.
Though the SJTA has made elaborate arrangements for live telecasting of the annual Ratha Jatra festival, many might have missed the moment of morning Aarti ritual of the holy trinity. For such devotees, Kumar's twitter account is the best option.
Today, he shared Aarti of Lord Jagannath, Lord Balabhadra and Devi Subhadra on the chariots in the morning as soon as the ritual was completed.
"Aarti of Mahaprabhu Shree Jagannath in morning on Nandigosha Ratha Jai Jagannatha," Dr.Kumar tweeted sharing a small video clip of the Arati of Lord of the Universe.
He also shared similar video clips of Prabhu Shree Balabhadra on Taladhwaja Ratha and Maa Subhadra on Debadalana Ratha.
He also shared many important rituals of the Lords being performed before the Adapa Mandap Bije.
Since beginning, Dr.Kumar, a great devotee of Lord Jagannath, has been sharing pictures related to the festival through his social media to give a spiritual feeling to the devotees who are looking for it in various parts of the country and abroad. 

After conducting the rituals, Niti is on for Adapa Mandap Bije of the trinity. By the evening, Lord Jagannath and his siblings will be taken today inside Puri's Shree Gundicha temple, where they will stay for the next seven days till Bahuda Jatra or return car festival.