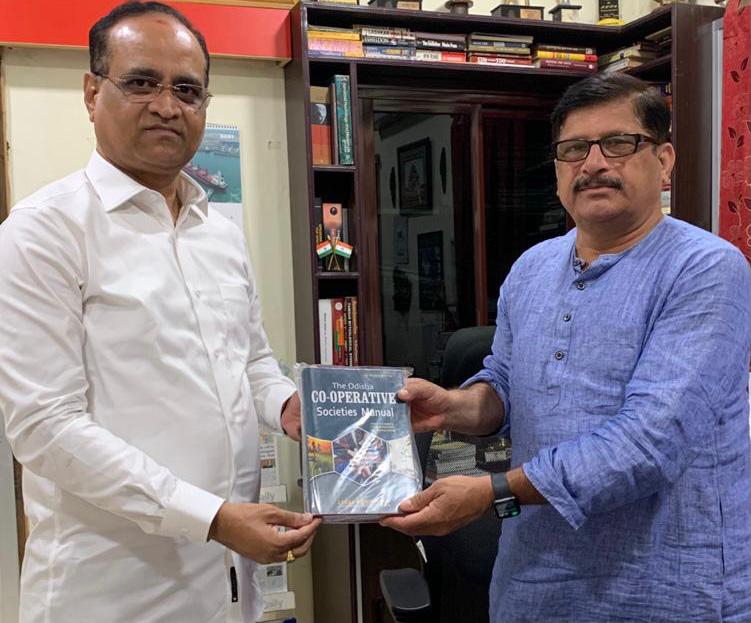 Bhubaneswar: Ace Co-operator,T Prasad Rao Dora has added another plume to his fledging cap by authoring 'The Odisha Cooperative Societies Manual', a handbook of reference for all the stakeholders of the Co-operative Sector.
Vice Chairman, International Cooperative Fisheries Organization having vast experience in Cooperative Sector has penned the Manual, which is like an encyclopedia of all sorts of Cooperative Acts and Rules.
After launching of the Book, Mr.Dora has presented the Manual to Bijaya Ketan Mishra, Resident Editor Odisha of Political Business Daily, a leading News Paper of the country.
While Odisha is promoting Independent, Self reliant, Spontaneous, Strong and Vibrant Cooperative Movement , the much required Manual will come handy for the people and organizations those involved in the Movement, said Mr.Dora. Mr.Dora has Jointly Authored with Jeet Swarup Samal is highly informative and a useful handbook for all the Acts, Rules governing Cooperative Sector.
Mr.Dora has a long and successful career in Cooperative Movement as he has been serving not only in Odisha, India but also in International arena. As President of FISHFED, Odisha he organized Cooperative Movement in Fisheries Sector and made it a vibrant one.
Similarly as Chairman of FISHCOFED, Mr.Dora implemented the policies and programmers of the Central Government for the benefit of fish farmers and other economically weaker sections through cooperatives and worked for strengthening the Cooperative Movement.
He also got elected to International Cooperative Fisheries Organization, based at Seoul, South Korea and was able to influence International Cooperative Movement, said sources.