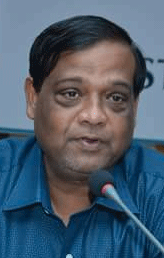 Bhubaneswar: A day after media reported about detection of a Delta Plus variant of SARS-CoV-2 virus, the Director of Institute of Life Sciences (ILS), Bhubaneswar, Ajay Parida on Saturday said there is no need to panic about the new mutant.
"We have found only one Delta Plus variant case in Odisha so far. The concerned person of Deogarh district was infected in April. It has been found during genome sequencing conducted on over 3000 samples collected from four States-Odisha, Jharkhand, Chhattisgarh and Bihar. However, we have not found any other case of the variant, so far," Dr.Parida said.
As not a single case has been detected in the last two months, it indicates that the new strain has not spread fast as predicted, he said, adding, "If it was highly contagious, then we must have found a number of variants of the same strain from April to till date. So, we should not unnecessarily panic about the new strain."
The mutation of the Delta variant is now called 'Delta Plus' which can only be ascertained through genome sequencing. During the second wave, over 80 per cent positive cases were found to be Delta variants. Now, it has been muted and named as Delta Plus, the ILS Director clarified.
Speaking on the same issue, Public Health Director Bijay Mohapatra said the person from Deogarh was infected with Delta Plus variant in April. He had taken one dose of vaccine on March 30 and he was asymptomatic. Now, the person has completely recovered, Dr.Mohapatra said.
"The infected person and all others, who had come in contact with him, are under observation for six weeks. The epidemiology team will examine all of their health conditions. We could know about the effect of the new variant on patients from the observation," said Dr.Mohapatra.
An epidemiology team has been sent to the district to examine the health condition of the person, he added.