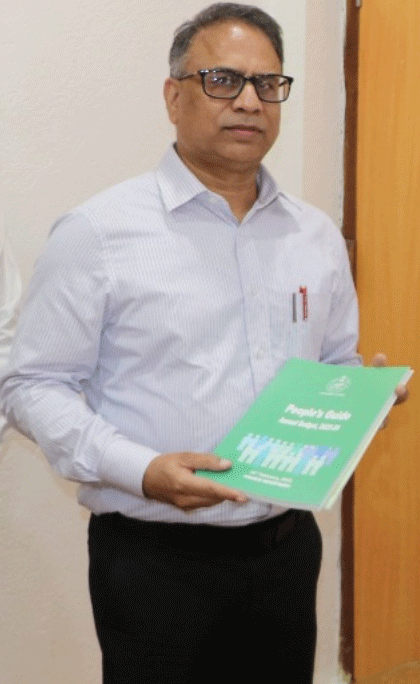 Bhubaneswar: Ace Mandarin Vishal Dev, the Chief Architect of Annual Budget Formulation has proved his mettle in preparation of Annual Budget 2023-24.
While there was pressing demand for accommodating more numbers of People-Centric Programs in the Annual Budget, commitment of making more funds available in Capital Outlay was a delicate matter.
Known for his innovative and large hearted approach, Shri Dev along with Team Finance used the prudent fiscal management technique to give final shape to the 'Balanced Budget' for 2023-24.
In fact the Government of Odisha is known for its prudent fiscal management. Odisha has been fully compliant with the FRBM act 2005 right since its enactment.
However maintaining equilibrium between growing peoples' demand for more development spending and complying FRBM Act was a 'Tight Rope Walking'.
Team Finance led by Shri Dev has been successful in maintaining balance to a great extent, which is laudable said a former ACS Finance.
While Odisha has been successful in posting 'Revenue Surplus Status' for several years during this period, thanks to regular monitoring on Revenue Collection by the Department of Finance, it has been successful to placing bigger amounts for development expenditure in the face of huge curtailing in Grants In Aid from Union Government.
Principal Secretary Finance has been religiously and continuously striving hard to enhance fiscal sustainability and improve budget performance by strengthening medium-term fiscal framework and improving budgetary transparency.
Known for his transparent and open minded approach, Development Departments are happy with flush of funds for their requirements, senior officials agree.
Large Hearted Mandarin has ensured that Development Program Budget to increase by 35 times from Rs.3,538 crore in 2000-01 to Rs.1,25,000 crore in 2023-24 Budget Estimates. The allocation for the Program Expenditure is about 54 percent of the total budgetary outlay.
Similarly, Capital Outlay has gone up by more than 60 times from Rs.834 crore to Rs.51,683 crore during the same period, which is a record sort.
The Administrative Expenditure has been proposed at Rs.94,000 crore in 2023-24, which includes Rs.32,449 crore for salaries, Rs.19,967 crore for pension, Rs.7,241 crore for interest payment and Rs.13,464 crore for maintenance of capital assets.
Sincere efforts of State Government to bring fiscal discipline Odisha has brought laurels and Shri Dev is maintaining the prudent fiscal management theory, which is helping out the State, officials maintain.
In fact with the objective of further improving budget credibility, the State has introduced 'Strategic Budget Making Process' in preparation of the budget for the ensuing years.
Thanks to his positive and prudent approach Management of Odisha Finance and Public Financial Management has gone to 'Next Level', which is receiving wide appreciation from various sectors.