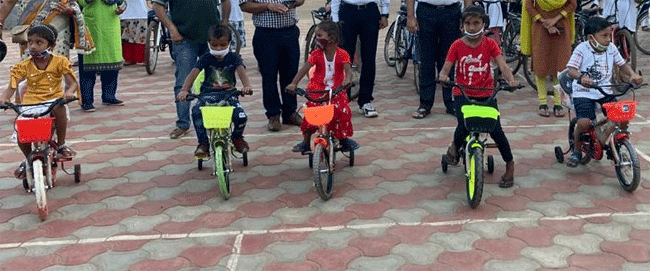 In a pandemic situation when physical activities are considered as a major initiative for building immunity against the disease spread, the cycle-centric activities by the city authorities have created a new craze among the citizens for better fitness and good health.As a token of appreciation and love on the eve of the Festival of Lights the Bhubaneswar Smart City Limited (BSCL) gifted out 20 bicycles to Peer Leaders  and five cycles to underprivileged kids of slum who are about to learn cycling.
Part of the "Gift-a-bicycle'' theme under the "Cyclegiri'' event on Friday with an aim to popularize cycling across the Temple City, the Smart City gifted the cycles to Peer Leaders of the Socially Smart Bhubaneswar Project for their dedicated service to people for various COVID-19 related awareness activities with the Bhubaneswar Municipal Corporation (BMC).
Similarly, the five cycles for the needy slum children were given as part of the weekly "Cyclegiri'' event to popularize cycles among the needy, who want to cycle passionately, but are unable to arrange due to financial difficulties. It would also come as a surprise gift for the kids and Diwali this year, is also falling on Children's Day.
It can be mentioned here that the Bhubaneswar Smart City Limited is organizing "Cyclegiri'' every week on Friday. The weekly event started following a cyclathon on October 9 as part of the campaign.
Today's event organized by Bhubaneswar Smart City in association with BMC at Smart Park Saheed Magar was attended by senior officials of BSCL and BMC. General Manager (Special Projects) Diptirani Sahoo and General Manager (Administration) Kamaljit Das distributed cycles to the Peer Leaders and slum children.
As part of the weekly "Cyclegiri'' event Bhubaneswar Smart City on November 6organised an event of cyclathon from Ekamra Plaza near Sishu Bhawan Square to Kalinga Stadium with a central theme on cancer awareness. Ollywood actor Siddhant Mohapatra, himself a great cyclist and biker and Olympian Anuradha Biswal joined to cheer the participants.
The cyclists, who joined the event, also constituted girls and women and they came on their own to join the cause and spread the awareness.