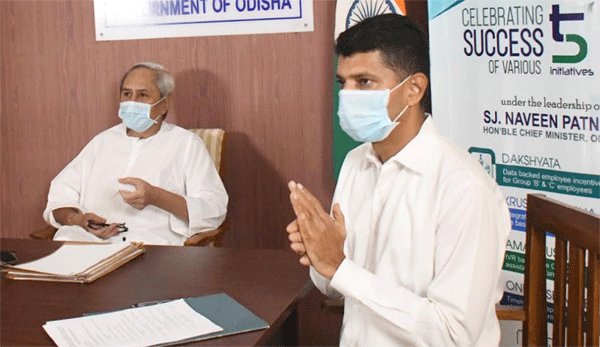 Chief Minister Naveen Patnaik Friday said that agriculture is the main hope for reviving economy in the State during the COVID-19 pandemic.Launching a series of online programs for farmers, farmers' databases for agricultural workers, online licensing for agricultural commodity sellers, incentives for skilled workers under the 5-T charter, the Chief Minister said that it is a great effort to set up a database of six lakh farmers in State.
Secretary to Chief Minister VK Pandian coordinated the meeting.
"Agriculture is the backbone of our economy," he said, urging everyone to work together for the betterment of agriculture and farmers in the state.
"Agriculture is one of the most important factors in our economy," he said and added, "This year we expect a bumper crop.
He assured that all farmers will be given farmer identification cards to make it easier for farmers to access various government benefits.
Mr.Patnaik said the verification of the farmers' database under the Krishak Odisha Program will be completed within 100 days and the identity cards will be issued to the farmers.
"This will allow farmers to reap the benefits of various schemes and services very soon," the Chief Minister said.
Mr.Patnaik said that he never wanted the people of the State to leave their jobs and come to government offices frequently for redressal of their issues.
"Rather they stay at home and get services online," he said adding, "Today's five initiatives have made it a success."
The Chief Minister said that starting today, farmers in Odisha, on-line licenses for input dealers, online certificates for OUAT students, 'Skills' for agriculture field staff etc. would help directly connect the departments with the farmers.
 He lauded the efforts of the Agriculture Department and praised the efforts of the skilled workers.
Skills are being recognized and rewarded by skilled agricultural workers.
The program recognizes 22 employees in September and 36 employees in October.
Skilled workers and farmers of Nuapada and Ganjam districts shared their experiences on the successful management of government schemes.
Our agricultural program, launched in 2017, provides farmers with mobile phone-based agricultural consulting services.
In 2014, only 50,000 farmers were provided with crop information, while now 1 million farmers are provided with 15 crop information.
On the occasion, Agriculture and Farmer Empowerment Minister Arun Sahu said that under the direction of the Chief Minister, the State Department of Agriculture is continuing its efforts to improve agriculture and farmers.
"The department is strictly abiding by the five programs," he said.
The event featured video footage of the department's online services, skills programs, and our agriculture.
Principal Secretary Saurabh Garg delivered the welcome address and the Special Secretary SK Vashishth thanked the participants.
Chief Secretary, Asit Tripathy, Development Commissioner, Suresh Chandra Mahapatra, Agricultural Production Commissioner, Raj Kumar Sharma, Vice Chancellor  OUAT, Secretary Cooperative VV Yadav and Secretary Fisheries & Animal Husbandry Department R Raghu Prasad were among those who attended the function.