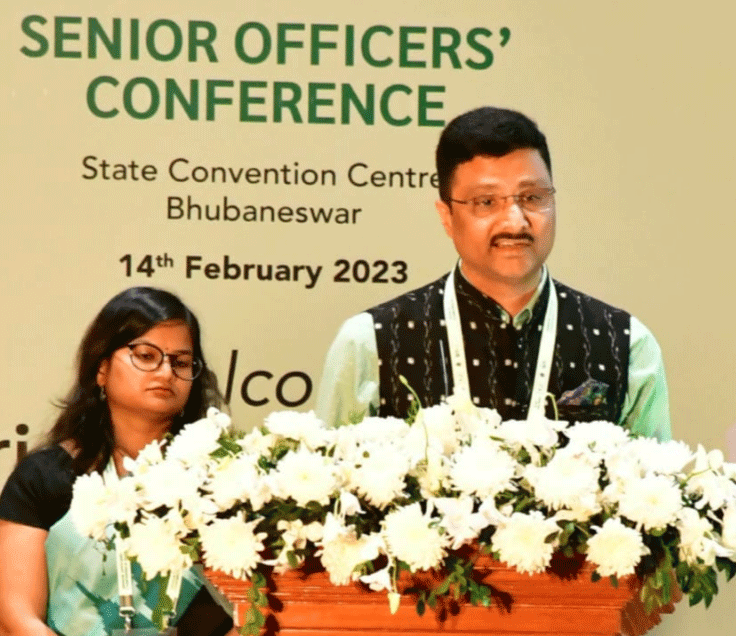 Bhubaneswar: Arabinda Kumar Padhee, Principal Secretary Agriculture & Farmers' Empowerment has said that the Chief Minister has always emphasized on the promotion of more remunerative crops in the State to enhance income of the farmers.
Making a technical presentation on "Crop diversification: Taking to the next level" was made in the ongoing Senior Officers' Conference, Dr. Padhee said recently the State Cabinet has approved a new scheme- Crop Diversification Program to promote the non- paddy and other high value crops cultivation in all 30 districts of the State especially in the ayacut area of Mega Lift Irrigation Projects.
The State Cabinet has already approved allocation of Rs 2808 Crores for promotion of millets for 6 yrs till 2026-27. Chief Minister has already directed to scale up millet cultivation in all 30 districts of the state, said he.
It focused on the arc of development of agriculture policy, its achievements, challenges and prospects for the future. Though spectacular success was achieved by Green Revolution, it led to negative externalities such as degraded agricultural lands, depletion of ground water, Loss of soil fertility, Loss of Biodiversity, etc. Overall, all these led to a weakened resilience to climate change. This has further exacerbated with diminishing natural resources and high levels of malnutrition leading to intergenerational problems.
To counter the trend, the team spoke about different types of adaptation strategies that can be taken up. Out of these strategies, Switch to different crop types and Shift in cropping area i.e., crop diversification is seen as a transformational strategy for adaptation to climate change. In the context of Odisha, this means promotion of non-paddy crops. Through use of statistics, the team shared that there is more than 40 lakh tonne surplus of paddy, even after meeting the rice consumption requirements of the state. This allows for diversification to other crops such as pulses, oilseeds, millets, horticulture, plantations, etc.
The presentation showcased the example of Odisha Millets Mission (OMM) as a successful model for crop diversification.
OMM has showed that fork to farm approach is suitable framework for reviving millets in farms and plates. Creating awareness through celebration of Mandia Dibasa and engagement with all stakeholders of the value chain has brought tremendous grassroots transformation. Building on these successful experiences of OMM, a theory of change and behavior transformation strategy was developed for crop diversification through assessment of farmers goals and enabling and disenabling factors, gaps analysis in functional diversity leading to selection of on-farm crop diversification options. Concurrent evaluation and learning and improvement is a key part of this theory of change for crop diversification.
Officials were informed that through this approach with focus on mega lift irrigation projects (MLIP) and rainfed areas, Department of Agriculture & FE aims to expand area under pulses to more than 27 lakh Ha, oilseeds to more than 15 lakh Ha, millets to more than 6.5 lakh Ha, horticulture plantations to 0.62 lakh Ha, vegetable cultivation to 0.44 lakh Ha, spices to 0.28 lakh ha in next 5 to 7 yrs. Department of Agriculture expects that Odisha will be surplus state in all commodities apart from oilseeds in next 5 to 7 yrs. In addition, mission mode approach shall be taken up to promote jackfruit, mushroom, floriculture, spices etc.
In addition to crop specific interventions, the officials also stressed the importance of integration of schemes such as Farm Pond Plus and Integrated farming, etc. Initial intervention by the Department on integrating agriculture, horticulture, livestock and fisheries activities on the farm pond assets created using MGNREGA has shown very good results. Farm Pond Plus is a model initiative where different department schemes are converged for integrated farming.
Later Chief Minister Naveen Patnaik advised the Collectors to focus on scaling up of non-paddy cultivation with all possible crops including horticulture crops and plantations, Promotion of micro irrigation, Setting up of primary and secondary processing units closer to farm gate (SHGs/PGs/FPOs/FPCs), Facilitating procurement of millets and price support for other non-paddy crops, Massive consumer awareness for non-paddy crops, Setting up of Millet Shakti Cafés/Tiffin Centers, including millet Snacks in Govt meetings and active leadership for Coffee Mission, Rainfed Area Development, Farm Pond plus and building MGNREGA Assets for agriculture development.