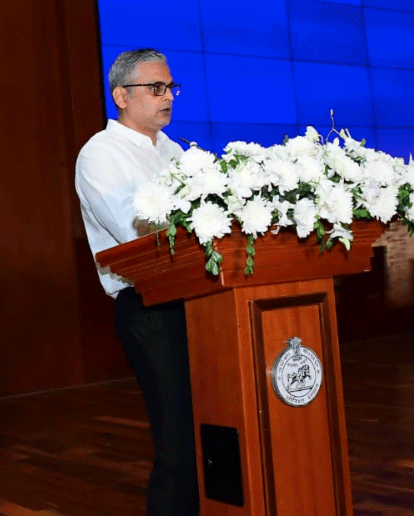 Bhubaneswar: Amidst the fast changing technological landscape and adoption of niche technologies across the world, an idea sharing session was held through virtual platform which was attended by Senior Officers. During the session, Principal Secretary, Electronics and IT Manoj Kumar Mishra presented views on the challenges and opportunities of technology in government domain.
The session deliberated on how the new technologies will bring a fusion between digital and physical and how augmented reality will be the new reality, redefining the way public service is being delivered. The session also underscored how the next decade will see significant transformations in terms of technological innovation and their adoption. Government agencies will have to embrace technologies at quicker pace to deliver public services, seamlessly and transparently, deliver new value for citizens, streamline processes and increase work efficiency of employees in their respective agencies.
Shri Mishra said: "Technology is the fulcrum of #5T charter and the adoption of frontier technologies will decide how government agencies tap the metaverse of opportunities in their respective organizations. We have to prepare ourselves to a level where we can deliver public services without the citizens applying for it."
The government agencies across the world are adopting newer technologies to solve people's problems which were previously remained unsolved. There is a paradigm shift in the way the government agencies are using technologies as newer technologies are turning mainstream at faster pace.
The session highlighted that there is rising expectations from citizens for a digital service which is quicker, seamless and transparent. Local governments are now being pushed to look for technological solutions which will deliver them public service the way citizens avail elsewhere.
The session concluded, "The only way the public services can become nimble and seamless is the way government agencies adopt technologies which will ensure transparency and greater participation of citizens in governance."
The state looks to use Information Technology (IT) and Electronics to transform Odisha into an innovation and knowledge based society focusing on inclusive growth through citizen-centric participatory governance. As technology is a key tenet of 5T vision, the department always looks to leverage technology to deliver public services in a seamless manner to the citizens.
Creating a skilled workforce which is ready for the world has been a focus area of the department to make the youth of the state ready for the Industrial Revolution (4.0). The department has special focus on nurturing students in new age technologies in engineering colleges and technical institutes.
Odisha, over last few years, has taken massive strides in business and industry transforming itself into a magnet for attracting investment. The department is making sustained effort to script a transformation story in IT, in consonance with the overarching 5T governance model introduced by Chief Minister Naveen Patnaik. The efforts have borne fruit in attracting some big technology players of the world to set offices in the state. There are many electronics and data centre companies who have agreed to expand their business in the state which will give a further boost to fast changing IT ecosystem in the state.
The state has undertaken several pioneering IT initiatives as part of broader vision to deliver public services seamlessly. Major initiatives include CM Dashboard, OdishaOne, KALIA, Biju Swasthya Kalyan Yojana, SPDP, SAMS, Krushak Odisha, Go Sugam, SAFAL, JanaSunani, Paddy Analytics, Mining Analytics, Scholarship Portal etc.