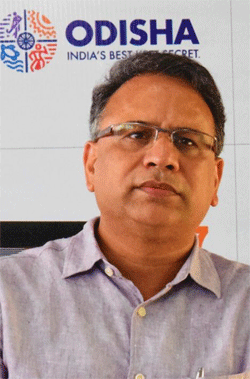 Bhubaneswar: Under the 5T mandate of Mission Shakti, the State Government has targeted to increase the loan size to Rs 4 lakh per women self-help group (SHG) by the end of Financial Year 2022-23. However, many banks have not yet achieved the target till now.
While addressing at the 170th State Level Bankers' Committee (SLBC) meeting held yesterday, Principal Secretary, Finance, Vishal Kumar Dev have asked the bankers to increase the average loan size per SHGs.
"Average loan size per SHG is only 2.85 lakh which needs to be increased to Rs.4 lakh by 2022-23 as required under 5T mandate," Shri Dev told the banks.
The banks have disbursed credit to the tune of Rs 7863 Crore against the financial target of Rs 8750 Crore for SHGs which is 90% of the target, he pointed out.
The State Government aims at graduating SHGs to Entrepreneurs. The quantum of loan to the SHGs is crucial for undertaking livelihood and entrepreneurial activities in a sustainable manner, an official said. The average loan size during the last financial year was Rs 2.20 lakh per SHG.
The SHG Bank Linkage programme undertaken by Mission Shakti has been of paramount significance with regard to the economic empowerment of 70 lakh women in 6 lakh Mission Shakti groups, sources said.
So far, 12 banks such as SBI, UCO Bank, Union Bank of India, OGB, UGB, ICICI bank, PNB, Canara Bank, Bank of India, Indian Bank, Axix Bank and YES bank have signed MoU with Mission Shakti Department to appoint SHGs as Business Correspondent Agents (BCAs).
The Principal Secretary has asked other banks such as Bank of Baroda, Indian Overseas Bank, Bank of Maharastra, HDFC Bank, IDBI Bank, IndusInd Bank, Bandhan Bank, DCB Bank, Federal Bank, IDFC First Bank, Kotak Mahindra Bank to sign MoU with Mission Shakti Department for engaging SHG as BCAs.
Shri Dev has also advised the bankers to increase the size of loan provided to MSMEs.
Against a target of Rs.59,449.51 crores under MSME credit, as on December 31, 2022, Banks have sanctioned Rs.45,940.57 crores which is 77.28% of the target.
The average ticket size under the Prime Minister's Employment Generation Programme (PMEGP) was Rs 2.78 lakhs and Mudra Yojana particularly under Kishore remained Rs 1.17 lakh, which is very low, he pointed out.
Kandhamal, Nayagarh, Jagatsinghpur, Boudh, Balasore have achieved more than the 100% of the target, while Deogarh, Nuapada, Jajpur, Ganjam, Bhadrak, Sundargarh, Jharsuguda have achieved less than 60% of their target.
Similarly, Kotak Mahindra Bank, ICICI Bank, Federal Bank have achieved more than 100% of their target. DCB Bank, Odisha Gramya Bank, IDFC Bank, Indusind Bank, Bandhan Bank have achieved less than 50% of their target.
Under the Agriculture and Allied sector, bankers have disbursed Rs 41,066 crore against the total target of Rs 52,486 crore by the end of December last, thereby registering an achievement of 78.24%, he said, adding, commercial banks need to expedite the credit flow to this sector.
The performance of commercial banks under crop loan is only 37% of the total achievement (Rs. 25,469 crore) whereas the achievement of State Cooperative bank is 50%.
The achievement under Other Allied category is Rs.920.13 crore against the target of Rs.232 crore which is 396%.
In the Agriculture and Allied Sector, the performance of HDFC bank (20.12%), Odisha Gramya Bank (41.98%) Union Bank of India (53.03%) is quite dismal in comparison to other banks.
The credit flow in a few districts like Gajapati (31.66%), Mayurbhanj (49.78%), Nabarangpur (53.35%) and Balasore (55.40%) need improvement, the Principal Secretary said.
The total Annual Credit Plan (ACP) achievement as on 31st December 2022 is Rs 97,407.85 crore against the target of Rs 1,34,664.87 crore, which is 72.33%.
It came to fore that Gajapati (33.62%), Deogarh (52.76%), Nabarangpur (56.47%), Malkangiri (57.06%), Sundargarh (59.14%), Mayurbhanj (59.33) are the bottom performer in ACP achievement.
The credit deposit (CD) ratio of the state remained at 78.81 percent by the end of December, 2022. Shri Dev sought clarification from the Central Bank of India (41.60%), Utkal Grameen Bank (47.60%) and Odisha Gramya Bank (48.89%) for such a low CD ratio.
As per district-wise CD ratio is concerned, Jagatsinghpur (48.15%), Mayurbhanj (51.49%), Gajapati (54.18%), Keonjhar (54.20%) have remained below 60 per cent. The concerned officials have been directed to look into it.