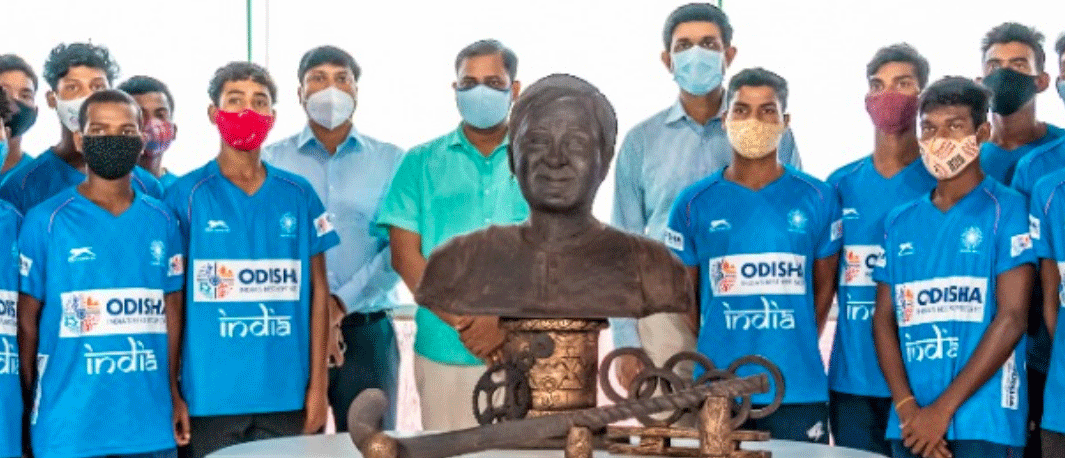 Bhubaneswar: Admirers often go out of their way to celebrate birthdays of their heroes and artist Rakesh Kumar Sahu from Begunia, Khordha seems to be no different. The 32-year-old pastry chef has created a massive, 72 kg chocolate sculpture of Chief Minister Naveen Patnaik to commemorate his 75th birthday.
Mr.Sahu and his team's joy knew no bounds when the chocolate sculpture was finally unveiled by the state's Sports Minister Tusharkanti Behera in Kalinga Hockey Stadium, on Chief Minister's 75th birthday on 16 October 2021, in the presence of Chairman, Odisha Hockey Promotion Council, Secretary, Sports & Youth Services Department, R. Vineel Krishna, athletes of the Hockey High Performance Centre and senior officials of the Sports Department.
Mr.Sahu, who has also founded an institution to teach baking and pastry art in Tanka Pani Road, Bhubaneswar, completed the sculpture in 15 days, with the help of 6 of his students. An avid sports enthusiast, Sahu says he came up with the idea to create the sculpture as a tribute to Mr.Patnaik for his steadfast support for Indian Hockey over the last several years, which resulted in a spectacular performance by the Men's and Women's National Teams in the recently concluded Tokyo Olympic Games. "It was when I was celebrating the bronze medal win, just like the rest of the country when it struck me that I should do something special for man who stood by the National Hockey Teams like a rock during its lowest phase – our Chief Minister Naveen Patnaik.", quipped Mr.Sahu.
When he pitched the idea of making the chocolate sculpture to his students at his institute, they readily agreed to assist him. With help from Bhubaneswar-based Public Relations agency 'The Click Productions', Mr.Sahu then shared his preliminary designs with officials from the state's Sports Department who immediately showed interest in the idea.
Mr.Sahu and his team faced several obstacles over the course of creating the sculpture for more than 2 weeks, including sleepless nights due to temperature variation and change in moisture levels in their workshop. But their hard work ultimately paid off when the final sculpture turned out to be just as they had envisioned.
Sports Department has decided to distribute the chocolate used to prepare the sculpture among disadvantaged children in adjoining areas after the completion of its exhibition period.
However, Sahu is not done yet. He plans to build a whole new generation of chocolatiers from the state next through his classes. And considering that a few of his students have already won medals at the national-level skill competitions, he seems to be on the right path.