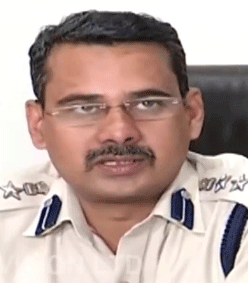 Bhubaneswar: The Twin City Police Saturday claimed cracking the murder of Manish Anurag, son of senior journalist Navin Das, and arrested three friends of the deceased.
Bhubaneswar DCP Umashankar Dash said the three accused have been identified as Amrit Pritam Biswal (30), Dinesh Kumar Mohapatra (31), and Mrutyunjaya Mishra (38).
Dinesh and Mrutyunjaya are residents of Kandhamal.
The DCP said that a complaint regarding Manish's abduction had been lodged by his father at the Infocity Police Station on Sunday (October 10) morning.
During the investigation, the body of Manish was recovered from a pond at Namrakani temple of Bhagabanpur village under Tamando police limits.
Subsequently, a team comprising of Special Squad in-charge Sanjeev Satpathy, staff of Tamando, Infocity and Khandagiri Police Stations initiated a probe into the matter.
Investigation revealed that on Saturday (October 9) evening Manish had been to meet his friend Tapas near a shop. There he received a phone call at around 5.30 PM from Amrit in which the latter insisted the deceased to accompany him and his friends for a bachelor party.
Accordingly, one Maruti Suzuki Ciaz car bearing registration number OD 02 X 9696 being driven by Amrit reached near the shop and picked the deceased and went to the Laxmisagar area.
Then they again went to South City bar at Bhagabanpur under Tamando Police Station. During that time Dinesh slept inside the car. There was a fight between the three for payment towards the bill of food and drinks and the deceased was forced to pay the bill.
Hence, he called his mother for money and an amount of Rs 8000 was transferred to the account of Manish on the same night. Due to the said dispute, there was a tussle between Manish and the three accused as a result of which Manish became senseless at the spot near village Bhagabanpur.
Thereafter the accused persons with an intention to conceal the evidence threw the dead body inside the pond and absconded from the spot