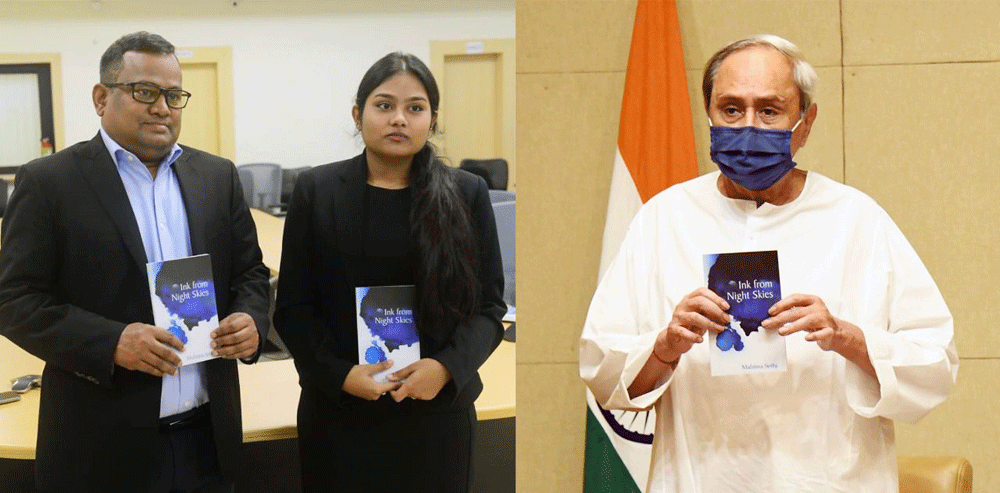 Bhubaneswar: Chief Minister Naveen Patnaik has released "Ink from Night Skies", a collection of poems written by young poet Mahima Sethi here on 30 November.
The book, containing 110 poems written by Mahima, is about expression of her feelings and a depiction of human connection to life, inanimate objects and non-material aspects of the universe.
"Ink from Night Skies" is the maiden creation of Mahima, who has graduated from IIT Mumbai.
Congratulating Mahima on writing such beautiful poems with maturity at such a tender age, the Chief Minister wished her more success in creative writing.
Published by New Delhi-based Har Anand Publications, and priced at Rs 695, "Ink from Night Skies" is characterized by tumult and chaos, with violent nature unfolding itself at every turn. Like the mother earth emerging from the fiery inception process, the poet also undergoes the creative throes. She is aware of the agony involved in creation when she writes, 'I have to cut open/my insides every time/to draw ink for my page' or 'I am waiting, as I bleed/ to write'.
The young poet finds her world strewn with fireworks, lightning, thunderstorm, tempest and 'wrestling hellhounds' while her 'earth shudders along my feet/ locking up fidgeting demons/ inside the ground'. But, like the primordial violence controlling the world outside, she is tormented by 'cloudbursts inside of me'.
She is afraid of night and darkness. She is torn apart by sorrow as it insinuates into her existence not by hitting her loudly but 'Instead/ it eats away your core/ in silence'.
The body-shaming and doubts of self-worth festered by social media have doomed the confidence of many a young one today; Mahima's poetic self is also troubled by this obnoxious trend when she writes, 'I utterly despised the mirror,/ wanted to get out of my body,/ shed and rip apart my skin,/ beseeching for a straighter nose'.
However, all these rage and retribution, doubts and despair, violence and virulence do not condemn her poetic galaxy to an irremediable dark hole. On the contrary, hope and optimism lurk in many places. As her poetic horizon is quite expansive, there is plenty of scopes to redeem her doubtful soul.
She has her spiritual bent of mind, her faith in the glory of God, the power of nature to sustain itself, her love for humanity and above all, her creative words to fall back on. She is sure that she herself is 'God's glory/ I'm God's Mahima'. With the grace of God, even death does not sting. It brings 'eternal rest', while the moon becomes her 'confidant, my witness/ of my yearning'.
While Mahima's faith in God soothes her anguish, her poetry becomes her balm, her creation relieves and energizes her. The night sky may be murky, but the ink it oozes out has the power to brighten Mahima's world.