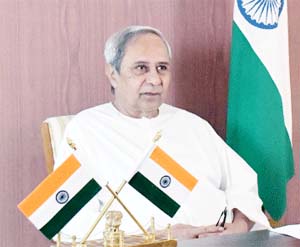 Bhubaneswar: The goal of the Government is to make State a role model through planned development programs in urban areas in collaboration with the people, Chief Minister Naveen Patnaik said on Thursday.
Allotting land titles to villagers in six developed villages– Bhubaneswar, Sahajpur, Nargoda, Sijuput and Paikrapur on the outskirts of the Capital city-under the first town planning scheme, he said that civic and group participation is an important requirement in urban development.
The Chief Minister said that Bhubaneswar is an attractive city not only in the State but also in the whole country. Secretary to Chief Minister V K Pandian moderated the meeting.
"Its population and boundaries are steadily increasing," he said adding, "In this regard, for its holistic development, the Bhubaneswar Development Authority has taken steps to implement a town planning scheme with the participation of the people on the outskirts of the city."
"It's a completely transparent and realistic way for the planned development of the growing cities," he said.
As per the town planning program, 60 per cent of the land in the planning area is allocated for the development of various infrastructures such as roads.
Landowners benefit from the development of infrastructure along with the increase in land prices, he said.
Currently, town planning is planned in 56 revenue villages in the State.
Initially, the plans of 4 villages have been approved. It includes the development of infrastructure on a total of 6 acres of land.
Mr.Patnaik asserted that a new era had begun in the state in terms of planned development and hoped that the program would be completed within the stipulated time frame to set an example for other cities.
"Cities are the engine of economic development. The development plans should be implemented along with the creation of a financial security for the weaker classes for sustainable, holistic development," he said.
Housing & Urban Development Minister Pratap Jena said that for the first time in the State, such an innovative scheme has been implemented by the BDA in Bhubaneswar.
He hoped that this would play an important role in the development of the city's infrastructure.
On this occasion s video of the relationship was shown.
Chief Secretary Asit Tripathi, Development Commissioner Suresh Chandra Mohapatra, Principal Secretary Finance Ashok Kumar Meena, Principal Secretary Department of Housing and Urban Development G Mathivatanan, Principal Secretary Revenue, Bishnupada Sethi, Secretary Works Kishan Kumar were present on the occasion.