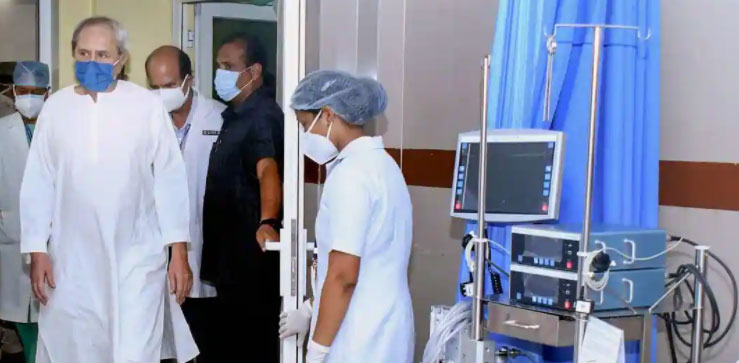 Cuttack:In view of possible third wave of Covid-19, Chief Minister Naveen Patnaik on Friday dedicated India's largest State-run ECMO unit here at SCB Medical College and Hospital.
The unit has nine ECMO ((extracorporeal membrane oxygenation) machines, which is the largest unit in eastern India and the biggest unit at any government facility in India, State government officials said.
The ECMO treatment, which is very costly, will be provided free of cost to critically ill Covid patients. The State Government will bear all the expenses, Patnaik said, adding, the State Government has recruited highly qualified medical professionals at the ECMO unit.
With the operation of the medical equipment at the State-run hospital, the critical Covid patients will no longer be airlifted to other States for ECMO treatment, he said. The Chief Minister hoped that the service would play an important role in saving lives.
"The second wave of the pandemic was very much painful. Even as the lockdown restrictions have been relaxed, the pandemic is not yet over. We have to remain more cautious for the impending third wave," he said.
"The second wave of Covid-19 has created a devastation across the country, while we have been able to control the situation in Odisha due to advance planning and proper management," he said.
The State government is taking the necessary steps to strengthen the pediatric care at Covid hospitals at the district level, as experts fear the possibility of high infection among children during the third wave, Patnaik further said.
He further said, "To protect our children, we have to remain more cautious for the impending third wave. Even as the lockdown restrictions have been relaxed, the fear of infection is not yet over,"
Patnaik appealed to the people to follow the Covid-19 appropriate behaviorus like wearing masks, maintaining social distancing and proper hand sanitization.
Law Minister Pratap Jena said the manpower required for the operation of the ECMO machines were trained in Kolkata in batches and more people will also learn the technique from them.
A number of critically ill COVID patients require ECMO treatment post-recovery and earlier, the government used to airlift such patients either to Hyderabad or Kolkata, Jena said. The nine ECMO machines will be very helpful for the people of the state, he said.
After inaugurating the ECMO unit, the Chief Minister spent some time at the Taladanda Canal, which has been transformed under the 5T Initiative of the Odisha Government. His PS and 5T Secretary VK Pandian has briefed Patnaik about the development works being taken up in the Silver City. The CM expressed satisfaction with the beautification works done on the two sides of the Canal.