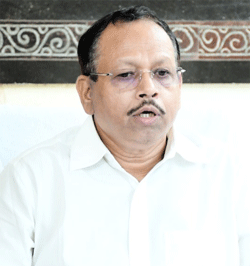 Bhubaneswar: Neighbouring Chhattisgarh is not cooperating with the State Government for proper management of the Mahanadi river water for the past two years, Special Relief Commission (SRC) Pradeep Kumar Jena said here on Tuesday.
Speaking to media persons here, Mr.Jena said, as per age old practice, a meeting was held in between Chhattisgarh and Odisha before the monsoon season in the presence of Central Water Commission (CWC) officials.
The meetings were held in Odisha and Chhattisgarh on alternative years. However, Chhattisgarh is not cooperating with Odisha to hold the meeting in the past two years, he said.
Though Odisha was calling for the meeting, the neighbouring state did not show any interest in it, Mr.Jena said.
The neighbouring State is not providing accurate information about the flood water which is giving rise to a lot of problems.
"We are managing the flood situation based on our previous experience, CWC data, and field engineer's data. If the neighbouring State had given accurate information on time, then the flood management module in Odisha would have been much better," said the SRC.
The water dispute over Mahanadi river is there, but it should not be linked with flood management, he added.
Notably, the State Government has locked horns with Chhattisgarh to get adequate water from Mahanadi river during non-monsoon season. The case is pending at Mahanadi water dispute tribunal constituted by the Union Government to resolve the dispute. Already three years have already passed, but the tribunal is yet to pass any order.