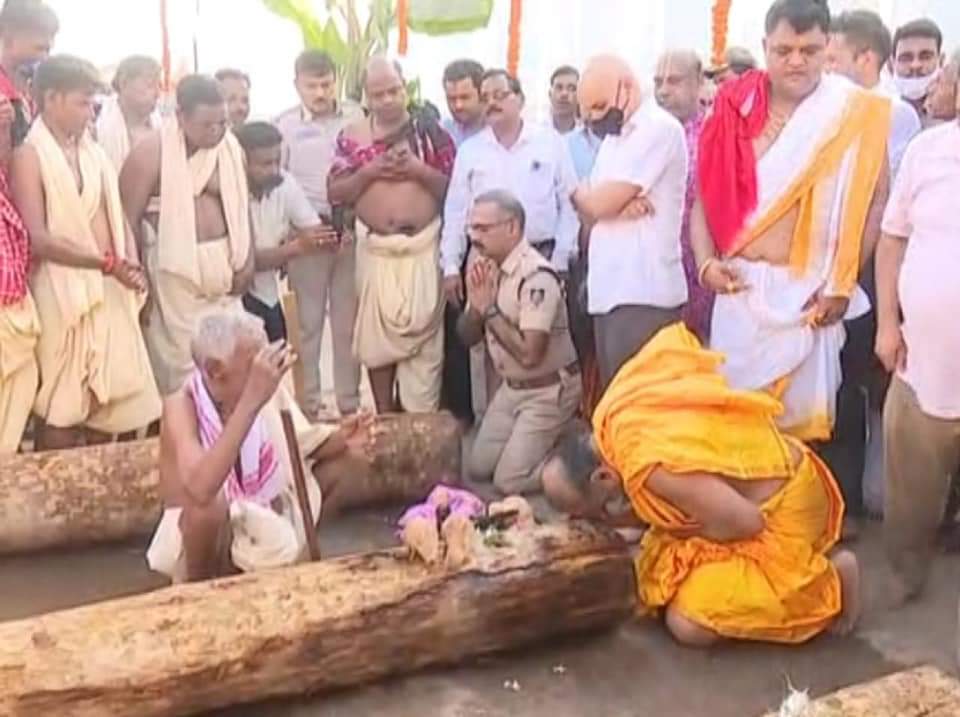 Puri: 'Ratha Anukula' ritual marking the beginning of construction of chariots for the annual Rath Yatra of Lord Jagannath and his siblings Lord Balabhadra and Devi Subhadra commenced here on Tuesday on the special occasion of Akshay Tritiya. This year, the Rath Jatra will commence from 1 July.
As per the tradition, the designated servitors of the 12th century Shrine performed a 'yajna' at the Ratha Khala (chariot construction yard) and 'ajyanmallya' of Lord Jagannath, Devi Subhadra and Lord Balabhadra were brought in a procession from Srimandir and handed over to the three Biswakarmas (chief carpenters). SJTA Chief Administrator VV Yadav and senior officials were present.
The Biswakarmas were presented with head gears as a mark of entrustment of responsibility. Three Dhaura timber logs were consecrated. Notably, the chariots are newly constructed every year with wood of specified trees like phassi, dhausa, etc.
The three chariots will be decorated as per the unique scheme prescribed and followed for centuries on the Bada Danda, the Grand Road. The chariots are lined across the wide avenue in front of the temple close to its eastern entrance, which is also known as the Sinhadwara or the Lion's Gate.
Around each of the chariots are nine Parsva devatas, painted wooden images representing different deities on the chariots' sides. Each chariot has a charioteer (Sarathi) and four horses.
Similarly, the 21-day Chandan Jatra of the Trinity began on the day. After a gap of two years, devotees are allowed to witness the famous Jatra of Lords.
Madan Mohan, the representing idol of Lord Jagannath along with other deities were placed in the Maniviman palanquin and taken to Narendra Pokhari, accompanied by Panchu Pandavas in another palanquin.
Bimanbadus, a special set of servitors, carried the palanquins on their shoulders. After arrival at the Narendra Pokhari, servitors escorted the deities to 'Chandan Chakada'.
The deities were placed on board the swan-shaped boats named Nanda and Bhadra for Chapa Khela. The deities were offered Mandya bhog (a special delicacy) and were dressed in flowers.