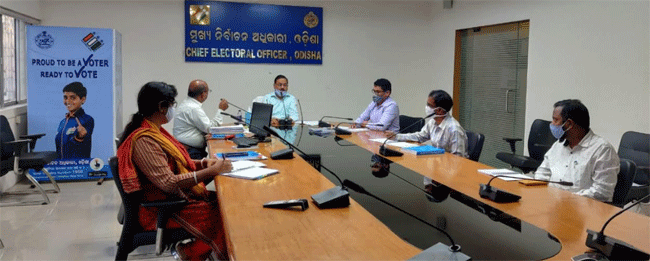 Election Commission of India has issued a detail guideline to ensure safe conduct of Elections during COVID pandemic period. In the Guidelines special emphasis has been given to safety and security of polling staff deployed in election duty as well as voters.
As per ECl guidelines any person deployed in election process has to always wear face mask. All the entry to halls / rooms / premises used for election purpose will have for thermal scanning, sanitizers, soap and water for cleaning etc.
The premises used for election purposes will be regularly sanitized.
In addition, all the election related activities would be carried out in large halls to ensure social distancing. ECl has also advised that large halls/spaces have to be identified for distribution and collection of election materials also.
Chief Electoral Officer, Odisha, Sushil Kumar Lohani reviewed the preparedness for conducting COVID safe election with Collectors of Jagatsinghpur and Balasore district. 
In view of more number of polling booths this time, the requirement of number of polling personnel has increased.
2768 and 2984 no.s of polling personnel has been appointed for Balasore and Tirtol Assembly constituencies respectively including reserves. This time two additional personnel including one ASHA worker are being engaged outside the booths to conduct thermal scanning of each voter, dispensing sanitizer and distributing gloves to voters and also for maintaining queue to ensure social distancing. 
CEO, Odisha instructed the collectors to ensure sanitization of polling stations prior to poll to ensure clean and hygienic environment for the polling staff as well as for voters. 
As per ECl guidelines special COVID kits consisting of mask, sanitizer and PPE kits, face shield, gloves are being provided to each polling personnel for their safety during the poll duty. 
Accordingly 875 IR thermometers, 4314 PPE kits,6.5 lakhs gloves,7830 face shields as well as sufficient quantity of hand sanitizer, Sodium hypochlorite solutions, bleaching powders, soaps, paper napkins etc. are being supplied for election purposes.
Collectors have also been asked to engage sufficient numbers of vehicles for deployment during poll process keeping in mind the social distancing norms for safe travel of polling personnel. 
Accordingly, 855 vehicles of different categories are being deployed for both the elections. District collectors have been specifically asked to take care of all the polling personnel deployed on election duty to ensure their safety and well-being during COVID period.