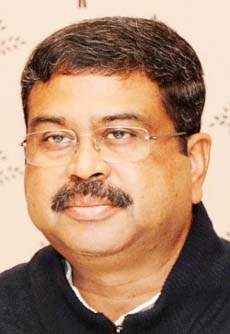 New Delhi: Union Steel Minister Dharmendra Pradhan Wednesday said that the Union Government has approved inclusion of 'Specialty Steel' under the Production Linked Incentive (PLI) Scheme with a 5-year financial outlay of Rs 6322 Crore to promote its manufacturing within the country.
This is done by attracting capital investment, generate employment and promote technology up-gradation in the steel sector, he said in Rajya Sabha.
This would help in improving availability of 'Specialty Steel' in the country by making the country Atmanirbhar in meeting the domestic demand.
In a deregulated, open market scenario, domestic steel price is determined by market forces of demand and supply, trends in prices of raw materials and is also influenced by global steel trade conditions, said the Minister.
The Ministry of Steel sanctioned funds worth Rs.30 Crore for the Promotion of Research & Development in Iron & Steel Sector scheme for the last two years.
The energy efficient and environment friendly technologies adopted by steel industry as part of technological up-gradation/ modernisation/ expansion programme/ projects include Coke Dry Quenching (CDQ)-Power generation from the waste heat from CDQ, Sinter Plant Heat Recovery (Power generation from Sinter Cooler Waste Heat), Bell Less Top Equipment (BLT) in Blast Furnace, he added.
Similarly, it also includes, Top Pressure Recovery Turbine (TRT) in Blast Furnace, Pulverized Coal Injection (PCI) system in Blast Furnace, Hot stove waste heat recovery in Blast Furnace, Dry type Gas Cleaning Plant (GCP) in Blast Furnace, Cast House/ Stock House Dedusting system, Converter Gas Recovery in BOF.
The Union Minister said so also energy monitoring & management system, secondary fume extraction system in steel melting shop, regenerative burners in re-heating furnaces of rolling mills, hot charging process of continuously cast products at higher temperature directly to rolling mills are included.
Direct Rolling Process eliminating the need for re-heating furnaces, energy efficient technology for Hot Strip Mill–flexible thin slab casting & rolling, Near Net Shape casting– bloom cum Beam Blank caster, Bloom cum Round caster etc and Adoption of Variable Voltage Variable Frequency (VVVF) Drives for high capacity electric motors are also included.
The wastes generated are recycled back within the steel plants. Solid wastes such as Blast Furnace slag is granulated within the steel plant and sold to cement industry.
Gaseous wastes generated from the processes are further used in downstream processes in the plant such as in the reheating furnaces and power generation.
Further, Research & Development projects have also been undertaken for utilization of steel slag in road making, construction, agriculture etc.